The Best Drip Coffee Maker
It's fast, convenient and makes a great pot of coffee.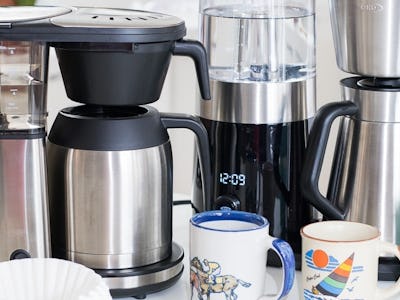 Michael Hession/Wirecutter
This post was done in partnership with Wirecutter. When readers choose to buy Wirecutter's independently chosen editorial picks, Wirecutter and Inverse may earn affiliate commissions.
Since 2014, we've spent 71 hours brewing in 19 coffee makers to find our top home brewer. After tasting hundreds of pots of coffee, we think the OXO On 9-Cup Coffee Maker is the best automatic drip coffee maker for most people. It's fast and convenient, with a programmable start time and a well-insulated carafe, and it makes a good pot of coffee.
Our Pick: OXO On 9-Cup Coffee Maker
We love the features of the OXO On 9-Cup Coffee Maker, like its timer function and automatic pre-infusion cycle (which briefly wets the coffee before brewing for better extraction). The machine has a handsome design, with a well-made thermal carafe that pours easily and keeps coffee hot for hours. We found the coffee from the OXO a little less reliably nuanced than brews from our runner-up, the Bonavita Connoisseur. But it still makes coffee far better than the average machine, and unlike the Connoisseur, allows you to wake up to a fresh pot in the morning or pour yourself a cup while the machine is still brewing.
Also Great: Bonavita BV1901TS Connoisseur
The Bonavita BV1901TS Connoisseur brewed the best-tasting coffee of any machine we tried, with minimal (read: zero) bells and whistles and an uber-simple interface. Like the OXO, it has a pre-infusion cycle (though it's not automatic) and can still brew fast, making a six-cup pot in less than 5 minutes. It also has an improved design over older Bonavitas, with a brew basket that slides right into the machine instead of resting awkwardly on top of the carafe. As a bonus, it sits on the low end of the price spectrum for the high-end coffee makers, costing about $160. We love the simplicity of the Bonavita and think it's a great choice if flavor is your number one priority. But unlike our top pick, it has only an on/off switch, so you can't program it to brew at a set time. And the carafe is clunky: You have to brew into it with the lid off, but can pour only with the lid on. It also didn't keep coffee hot for as long as the OXO did.
Why You Should Trust Us: Liz Clayton, who wrote the 2018 update to this guide, is a seasoned coffee writer with more than a decade of experience brewing and tasting coffee alongside all levels of professionals. She's also the associate editor at coffee news website Sprudge and has written multiple guides to coffee equipment, including Wirecutter's guide to coffee grinders. This guide also builds on research and testing conducted by Cale Guthrie Weissman, a coffee writer and National Barista Championship finalist.
For the 2018 update, we spent weeks researching the latest coffee makers and checking in with past contenders to update the findings of our previous tests. We reviewed the current list of home brewers certified by the Specialty Coffee Association (the group of record for specialty coffee professionals) and dug for market gossip on what new machines might be released by early 2018.
We also tapped the expertise (and palates) of Counter Culture Coffee's New York City team, which helped us fine-tune our testing criteria and evaluate each coffee maker both qualitatively and quantitatively. As well, we drew on the professional wisdom of Charles Babinski, 2015 United States Barista Champion and co-owner of Los Angeles coffee bars G&B and Go Get Em Tiger—cafes known for unpretentiously addressing the real-world preferences of normal human coffee drinkers. For past versions of this guide, we spoke to Humberto Ricardo, the owner of the renowned Manhattan coffee shop Third Rail Coffee; barista Carlos Morales, a past Northeast Brewers Cup Championship finalist; and Mark Hellweg, who founded and runs the speciality coffee accessory company Clive Coffee (which offers a high-end coffee maker of its own design).
Who This Is For: Most people in the United States who drink coffee at home use automatic coffee makers. But the average maker on the market brews coffee that's only okay. As both knowledge and appreciation of specialty coffee have grown, many coffee lovers now want to brew great, cafe-quality cups at home. Unfortunately—despite there being a much larger pool of specialty-targeted machines now than, say, five years ago—even the highest-end automatic coffee makers available today are rife with imperfections. We went into the review process with this in mind and tried to find a balance of the main priorities for most people: great-tasting coffee brewed on a well-built machine with easy-to-use functionality.
But we'll be honest right off the bat: We already suspected there wasn't any single machine that did it all at the highest level, and in the end it was a game of trade-offs. Those who prefer the absolute best-tasting brews may need to sacrifice in the way of features, and may even opt to stick with a pour-over routine or the local cafe. But bearing that in mind, if you're looking for the convenience of brewing coffee in quantity on a very good automatic drip machine that still comes with a lot of asterisks, this is the guide for you.
For the less fussy set, we also have a budget coffee maker guide, which covers basic models less than $100.
How We Picked:
A high-quality automatic brewer should be easy to use and very consistent at producing a balanced, nuanced cup of coffee. To find such models to test, we first looked at coffee machines with good industry reputations, including several certified by the Specialty Coffee Association. The SCA, a worldwide professional organization, regularly evaluates and certifies coffee brewing equipment that meets its standards (PDF)—though manufacturers must submit machines for this consideration, with an application fee.
We also narrowed our search by looking for the features nonprofessionals most want in a brewer. The world of high-end home coffee makers has seen significant growth in the past 10 years, having multiplied exponentially since the days when the Danish-imported $300-plus Technivorm Moccamaster was the only game in town. "I think we're at a place where there's such a glut of good machines available," said G&B Coffee's Charles Babinski. He noted that there's now a wide range of home brewers for sale between $200 and $500 "that basically all do roughly the same thing. The difference seems to be primarily design and to some extent the bells and whistles." In talking with customers at his cafe, Babinski said, "It's less about the machine as, how much space do I have on my counter? Am I going to want to have a timer for my brews so I can set it up the night before? How high are my cabinets?, et cetera."
Here, in order of importance, are our criteria for a good coffee maker:
Heats water to around 200 ºF
Most coffee makers on the market fail to heat water to a high enough temperature—the SCA specifies between 197.6 ºF and 204.8 ºF—to extract coffee well. Which is a shame, because it's possibly their most important job. They also fail to maintain a high enough temperature in the coffee's brew bed, where water meets ground coffee in the filter. In both cases, the result is weak, flat-tasting coffee. So we only considered coffee makers we expected to reach and maintain a temperature of around 200 °F.
Brews a balanced pot of coffee
The best coffee makers will brew a balanced, delicious cup that reflects the characteristics we expect from a coffee in terms of brightness, acidity, mouthfeel, sweetness, and body. To do so, they need to heat water to the correct temperature (and keep it there), as well as disperse water evenly over the grounds for a consistent extraction.
According to SCA standards, a well-brewed cup of coffee will hit a measurable extraction mark from 18 to 22 percent, which refers to what percentage by mass of coffee grounds ends up in the final brewed liquid. In our testing, we measured this percentage using a refractometer. But extraction—notably under- or over-extraction—is also something experienced coffee tasters can simply interpret by taste, so we used our experts' palates to judge whether a brewer was getting enough, or too much, coffee strength out of the brew.
Fast and easy to use
A good coffee maker—even one with lots of special options—should be relatively quick and easy to use. A groggy person or a houseguest should be able to just walk up and brew a cup of coffee. And you shouldn't have to mash the buttons in until the machine scoots across the counter. You also shouldn't have to wait ages for the coffee to brew––according to the SCA, a good machine will do it in less than 8 minutes. We looked at how fast and easy it was to go from no coffee to coffee using each machine.
Programmable
While not all machines we tested let you schedule a brew ahead of time, we know many people like to wake up to a fresh pot of coffee. We looked for machines with timers that were easy to program, allowing a future sleepy person to set it and forget it for the morning ahead.
Thermal versus glass carafe
Programmable machines, which assume you may not get to your pot the minute it's done brewing, come standard with thermal carafes. A good thermal carafe will keep your coffee at a drinkably hot temperature for anywhere from minutes to hours. With some exceptions (like our top pick), unprogrammable machines tend to come with glass carafes, which are easier to handle and clean, but also easier to break. Glass carafes do not retain heat, but typically sit diner-style on a hot plate, which means you'll want to make sure the machine shuts off when you leave. We tested machines both with glass and with thermal carafes—really, which kind you like more is a matter of personal preference.
Easy to clean and durable
A coffee maker should be easy to clean, both at the end of a brew cycle (putting away and drying out the carafe and filter basket) and in terms of necessary long-term maintenance, like descaling. It should also be sturdy, since it's something most people will use every day, if not multiple times a day. And beyond that, a high-end coffee maker should come with a solid warranty. Most of the machines we looked at offer a two-year warranty, but a few (including newer Bonavitas) are covered only for a year. For something in this price category, we wouldn't settle for anything less than that.
Other features
We also looked at a few other elements, like how annoying it can be to fiddle with filter baskets and lids. And we gave bonus points for additional nice-to-have features like a pre-infusion cycle, which briefly premoistens the bed of coffee grounds, opening up the particles to better receive and extract coffee.
Based on the above criteria, we narrowed our 2018 test pool to eight machines. We were excited to bring back our top pick, the OXO On 9-Cup Coffee Maker, which has been in service in the Wirecutter test kitchen for some time. Confident that the Bonavita offerings—once mere Moccamaster knockoffs, but now a line of versatile, incredibly simple, and affordable coffee brewers—would perform well, we looked at a few versions to find the right combination of features and price. We were also eager to test the Breville Precision Brewer, knowing the company's penchant for manufacturing extremely sophisticate-friendly, detail-oriented machines. And we brought in a new machine from Bunn, as well as a couple from Motif, a relatively new coffee gear company from Seattle.
In general, the brewers we tested ranged in price from $90 to $300, with many hovering around the $200 mark. Even for a coffee snob, $200 is a big price tag for something most of us grew up expecting to cost $25, maybe $40, tops. And although we weren't looking for a budget pick in this category, it was impossible to ignore the sticker-shock factor when evaluating certain machines.
The good news is, there were a lot of machines to choose from that did a fine job—or were programmable, or stylish, or fit under most cabinets. The bad news is, there was no one machine that we felt really did it all. Deciding which of our picks to get will depend on what features are most important to you.
How We Tested:
To test the coffee makers in a consistent setting, we enlisted the help of the team at the Counter Culture Coffee's training lab in Manhattan. There, pros Matt Banbury and Ryan Ludwig helped us brew and taste one of their staple coffees, the Hologram blend, and measured the extraction percentage and total dissolved solids (TDS) of each brew using a VST refractometer.
We first dialed in each coffee maker by brewing to the ratio suggested by the manufacturer and making slight adjustments to our grind settings. In doing so, we noted how easy each coffee maker was to use and timed how quickly it brewed coffee. We also looked for features like programmability and pre-infusion (which makes a better brew). And we evaluated the hardware itself, like the make of the carafes (which can be clunky or not retain heat for as long as one would like). Naturally, we spent the most time on tasting coffee, in some cases dialing in and adjusting for more than two hours to try to nail a complicated machine's optimal brew (we're looking at you, Breville Precision).
We tasted each brew and performed TDS and extraction readings to see if we were approaching our targets: the Specialty Coffee Association of American Golden Cup Standards of 1.15 to 1.35 TDS and 18 to 22 percent extraction.
"When taking a TDS, you're measuring the total dissolved solids in the solution based on light refracted by the particles," Banbury explained. "Essentially, anything that is suspended in the solution and reflects light. And because coffee is an organic structure, the cellular composition is highly irregular." Banbury cautioned: "Due to the limitations of the refractometer, the user is left completely in the dark about which constituents are creating the reading. Light might be bouncing off the very bitter, tannic, and woody compounds caused by overextraction of [fine particles], or the sweet, syrupy, tasty compounds from a more ideal particle size." In other words, Banbury is keen to remind us that there is no tool on the consumer market as good as a developed palate when it comes to assessing coffee extraction.
So ultimately, tasting was the most important test. Palate-wise, Banbury and his team were already very familiar with Counter Culture's Hologram blend, so we knew what taste parameters we were looking for out of this coffee. But we used the TDS and extraction readings to add a dimension of understanding to our taste evaluations, or to help us refine a brew we'd found over- or under-extracted.
We also used an instant-read thermometer to measure the temperature of the brew bed during brewing. We looked for machines that maintained a stable temperature around 200 ºF, which is tremendously important to ensure grounds are being extracted to their full flavor and strength potential.
Almost all of the brewers we tested (with the notable exception of the Breville, which offers a single-cup brewing mode) suggest you'll get the best performance by brewing larger batches rather than smaller ones—temperature stability is going to be better in a fuller filter. So we tested all of our machines at quantities of approximately six to eight "cups," with variation accounted for by the wildly different and seemingly arbitrary definition of coffee cup volumes made up by every single person who uses the term.
In addition to brewing at Counter Culture, we applied real-world conditions (sleepy parents of a toddler) to a round of at-home testing, brewing pot after pot at all hours of the day on a crowded New York City countertop. We also had plenty of opportunities to test the heat retention of thermal carafes.
Our Pick: OXO On 9-Cup Coffee Maker
The OXO On 9-Cup Coffee Maker makes better coffee than most of the other brewers we tested, and it comes with a number of convenient features that are lacking from our runner-up. For one thing, it has a timer function, so you can program it to make coffee before you wake up. It also has a count-up timer that tells you how old the brewed coffee is. The OXO is stylish from top to bottom, with an hourglass-esque design and a tall carafe that pours easily and keeps coffee hot for hours. Brewing-wise, the machine has a pre-infusion cycle to prepare the coffee for optimal extraction, and it can make a full pot in just under 7 minutes.
The OXO is designed to make good coffee consistently and without much effort on your part. Its five-port showerhead disperses water evenly over the coffee, and the bed of grounds measured about 195 ºF during brewing in our tests. That's a couple of degrees below the SCA-approved range of 197.6 to 204.8 ºF, but it's possible that the temperature dropped a few degrees when we opened the lid to measure. With other machines, like the Bonavita, we were able to stick a thermometer in without lifting the lid.
The OXO has an automatic pre-infusion mode, which helps prepare the grounds for better extraction. Other coffee makers we tested, including our runner-up, make pre-infusion optional, so you have to remember to turn it on. The OXO will adjust the pre-infusion time, water quantity, and overall brewing time for smaller amounts of coffee (you have to select between brewing a two- to four-cup pot or a five- to nine-cup pot). We didn't test this against other machines, like the Bonavita, which perform the same no matter how much coffee you're brewing, but the Bonavita manual does recommend brewing in six- to eight-cup batches for best results.
Brews from the OXO tasted good, if lacking a little of the sweetness and dimension we got from the Bonavita, and we measured extraction a bit high, at 22.5 percent, on our best-brewed pot. This may be because the OXO uses a cone-shaped filter, which doesn't allow grounds to be quite as evenly steeped and extracted as a flat-bottom filter (like the Bonavita has). Still, brews from the OXO were pleasant and much better than those we made with some of the competitors—like the Bunn's woefully under-extracted pot. If you're a coffee connoisseur and flavor is your number one priority, you might want to go with the Bonavita. But we think most people will prefer the added convenience of the OXO's programmable start time and well-designed carafe.
A couple of features really sold us on the OXO over the Bonavita Connoisseur for most people. First: its display and programmability. While the Bonavita has just an on/off switch, the OXO has an easy-to-read digital display with a timer that allows you to set the machine to brew before you get out of bed (or whenever you want it to). Our only complaint is that it takes a little time to get the hang of the single dial-and-button system (more on that in the Flaws but not dealbreakers section). When the machine is finished brewing, the display also shows how long it's been since the coffee was made. This way, you know exactly how long that coffee has been sitting in the carafe before you unintentionally pour a cold, stale brew into a clean mug.
We also appreciated the OXO's well-designed thermal stainless steel carafe. The machine brews directly through the lid of the carafe, so you don't have to leave it off to make a pot of coffee. This was the case for most of the machines we tested, but a notable improvement over the Bonavita carafe, which requires you to screw the lid on after brewing. Not only is the extra step annoying, but the coffee also cools faster when the lid is off the carafe. The OXO's carafe kept coffee quite hot—after an hour, a full pot still measured about 180 °F, whereas coffee in the Bonavita carafe had cooled to 172 °F. And the filter basket on the OXO has a mechanism that will spring shut, stopping the brew flow, when you remove the carafe. So if you're desperate for caffeine, you can pour yourself a cup before the machine finishes brewing—something you can't do with the Bonavita.
The OXO's carafe is easier to pour than many others we tested (including the Bonavita, which dribbles all over the place without the lid on). And it comes with a silicone mixing tube that directs freshly brewed coffee to the bottom of the pot in order to keep it evenly mixed. We were unable to confirm if this made a difference, and it seems like it wouldn't be more effective than just giving it a swirl before pouring, but the tube is easily removable. (We removed ours to have one less thing to clean.)
Cleaning is simple. The carafe should be hand cleaned with normal dish soap (note: it is not dishwasher safe). Every so often, you might want to use a powder cleanser to de-gunk the hard-to-remove coffee residue (Full Circle makes a good one). We recommend occasional descaling to remove minerals from the water reservoir, and the OXO will conveniently remind you to do so with a little red light that comes on after every 90 brews.
Additionally, all of the connected plastic parts are top-shelf dishwasher safe. This includes the filter basket, the showerhead, the carafe head, and the plastic mixing tube that is used inside the carafe. Occasional cleaning of these parts will make the machine last longer and ensure that no buildup or residue grows on any of the water-transporting objects.
OXO offers a two-year warranty for its On coffee makers, which is the standard for high-end appliances.
Flaws But Not Dealbreakers:
The first issue we ran into with the OXO was its somewhat nonintuitive interface. Opting for a streamlined, one-button approach, the OXO's push-and-dial control is sleek, but label-free. The dark digital screen doesn't display all your options until you scroll through, and then only offers a choice between either "2–4" or "5–9"—the two (slightly odd) cup ranges to choose from before pressing the button again to brew. It's also not clear how to program the timer without reading the manual. So the machine may be intimidating for houseguests to use (something we've run into a couple of times when visitors have tried ours at the Wirecutter test kitchen), but once you get the hang of it, it's pretty straightforward.
The OXO is also pretty big, at just over 17 inches tall, so you might have an issue fitting it under your kitchen cabinets if they're close to the counter. But most of the brewers we tested were around the same size, so we don't think it's a dealbreaker. Just measure the clearance under your cabinets if you're unsure, or go for the compact Bonavita Connoisseur (which is just over a foot tall) if you're short on space.
In our years of long-term testing, we've noticed that the lid on the OXO's carafe is hard to clean. It tends to trap old coffee, and even a good rinse isn't enough to flush everything out (we've put it on the counter after rinsing, only to have more coffee dribble out). The best solution we've found is to occasionally run a pipe cleaner through all the openings.
Additionally, we noticed many recent Amazon reviews reporting that the spring-controlled valve on the machine's brew basket was faulty, which was preventing it from shutting tightly when the carafe was removed, dripping coffee all over. When we tested a new model of the OXO for the 2018 update, we ran into the same issue, so we reached out to OXO representatives. They told us that they had "identified the problem as a manufacturing issue, which affected a small number of our 9-Cup Coffee Maker brew baskets. Our Quality Assurance team resolved the issue and instituted new testing parameters to ensure the improved brew baskets meet our high-quality standards." Anyone who received a machine with a faulty brew basket should contact OXO's customer service by either emailing tellus@oxo.com or calling 800-545-4411 for a replacement. We are confident in OXO's prompt customer service and don't think the flaw will be an issue going forward, but we will monitor the reviews carefully to be sure.
And, finally, our biggest complaint is that the thing is drippy. The water-delivery mechanism leading from the (totally cool-looking) water reservoir to the spray heads seems to hang on to a fair amount of water once it's done brewing. So, when you flip up the lid that holds the spray heads to remove the filter basket, blubs of water pour backwards out of the spray head and into the basket. If no coffee filter and grounds are present in the basket at the time, water will just drip into the filter basket and hang out there, creating an almost ever-wet environment in the filter basket.
So if you plan to use the programmable start time function on the OXO, you'll want to make sure to fully air it out first. If your filter basket never adequately dries out, placing tomorrow's dry coffee filter and coffee grounds in it means they begin to get wet (and therefore partially extract) right away. And worse, they sit there like that overnight.
Some of our Wirecutter colleagues who use this machine at home have acknowledged the flaw and learned to work around it. Here's one technique we've come up with to allow the filter basket, the filter basket holder, and the easily fogged-up water reservoir to air-dry all at once:
This is a fine solution, assuming you don't mind how ugly it looks for the time it takes to dry, and that you have room for the height clearance to pull off this balancing act.
Runner-up: Bonavita Connoisseur BV1901TS
The Bonavita Connoisseur BV1901TS, a coffee maker that goes back to basics, won out in our taste tests, performing just as well as far more expensive machines. The compact, straightforward Connoisseur maintains a stable brew temperature that produces a consistent, balanced, and easily reproducible pot of coffee. It's simple and easy to use, but it's missing some of the additional features, like programmability and a brew-through lid, that ultimately made the OXO our top pick.
Our tasters liked the coffee brewed in the Connoisseur as much as—or even more than—the competition. It had a bit more sweetness and depth to it than the coffee brewed in the OXO. It also dramatically beat out the Bunn, which made under-extracted coffee, and the Motif Elements, which produced a flat, one-dimensional, and also under-extracted brew. Counter Culture's Matt Banbury and his team predicted that Counter Culture's Hologram coffee blend—a medium-roast, contemporary, approachable take on a chocolatey Moka Java–style coffee—would be best when extraction measured between 19.5 to 20.5 percent. The pots of coffee we brewed with the Bonavita BV1901TS Connoisseur fell just on the periphery of those results—the sweetest, most balanced pot measuring at 19.44 percent.
We brewed several pots from the Connoisseur and found it retained heat very well in the brew bed, measuring 200.4 °F after 2 minutes of brewing. The brewer's spray head distributed water efficiently over the bed of coffee grounds, making for a better extraction. Similarly, the basket-shaped filter contributed to more even extraction, which is easier to achieve in a flat-bottom filter than in a cone-shaped filter like the one on the OXO. And the Connoisseur has a pre-infusion mode, which briefly wets the grounds to prime them for brewing. However, unlike the OXO, the Bonavita doesn't activate this mode automatically, and doing so is not intuitive: You have to hold down the on button for five seconds, until the machine beeps and the power light flashes.
Instead of resting directly on top of the carafe, the filter basket on the Connoisseur slides neatly into rails underneath the water dispenser. This is an improvement over our previous runner-up, the Bonavita BV1900TS, which sees the basket resting right on the carafe, with an air gap between the water-dispensing heads and the bed of grounds itself. The upgraded filter basket on the new model reduces the amount of air let in, thus keeping the brew bed hot and making a better-tasting pot of coffee.
Filter basket improvement aside, the Connoisseur did inherit one of its predecessor's most unattractive traits, the clunky carafe. Of all the thermal carafe brewers we tested, the Bonavitas were the only ones that didn't offer a brew-through lid, which allows you to sneak a cup while brewing is still going on, like the OXO. So you have to remove the carafe of brewed coffee and screw the lid on before pouring—without it, coffee will spill everywhere. This is an added step that's made all the more frustrating when you realize the now-lidded carafe no longer fits back in the machine under the brew basket. If you don't put the lid on right away, your coffee will also begin to lose heat through the open top. And even with the lid on, it didn't keep coffee quite as hot as the OXO: Over the course of an hour, it cooled from 185 °F to 172 °F, whereas coffee in the OXO was 180 °F.
Reviewers on Amazon also cite the carafe's limited utility: It's not good for filling up the machine's water reservoir unless you screw that pesky lid on first, so you may find it easier to use a separate vessel for that.
The machine itself, however, is exceptionally easy to use, with an on-off rocker switch that activates the machine and flips back into off position once it's done triggering a brew cycle. It also works quickly, taking just 4 minutes, 30 seconds to brew a six-cup pot. Cleaning the carafe is relatively easy, too, due to its gaping maw of a mouth, whereas we found it difficult to reach into the narrow opening of other brewers' carafes. Standard descaling practices (which you should do once every six months to a year) should work normally in this machine.
Overall, the Connoisseur is a sturdy, compact brewer that gets a lot done using far less countertop real estate than its competitors (some of which, like the Breville or the OXO, barely cleared the bottom of our cupboards at around 16 inches high). The Connoisseur is only 12 inches tall, meaning you theoretically don't have to pull it all the way out from under your upper cabinets to worry about venting while it brews.
Besides the frustrating carafe, the other big reason the Connoisseur is our runner-up is that it lacks the programmability of the OXO: You can't set it to automatically brew a pot before you wake up. And though the Connoisseur made better-tasting coffee than the OXO in our side-by-side tests, we think most people will be perfectly happy with the coffee from the OXO—it's still reliably good, and a huge step up from what you'd make with a cheap coffee maker.
But if you're someone who prioritizes flavor over all else, or if you want a smaller, simpler machine than the OXO, get the Connoisseur. Arguably, the lack of a programmable function encourages better brewing practices if you're dissuaded from leaving out pre-ground coffee to gradually become stale overnight.
Alternatively, if you really want coffee fast in the morning, remember that the Connoisseur has a brew time of under 5 minutes for a six-cup pot. So all you'd really have to do is load the machine with coffee and water the night before and have it ready for you to hit the switch as you stumble past in the morning.
What About The Technivorm Moccamaster?
The $310 Technivorm Moccamaster we tested in 2016 is often cited as the best home coffee brewer available. All of our tasters enjoyed its coffee, but not any more than that from the Bonavita or OXO models we tested. That, in addition to the fact that the Technivorm lacked many of the helpful features of the OXO On 9-Cup Coffee Maker, convinced us that our pick and runner-up are better options.
Like the Bonavita BV1901TS Connoisseur, the Technivorm is pretty simple to use. Once you've added your ground coffee and water, you flip a switch and the machine begins brewing. With both machines, this simplicity comes at a cost. The Technivorm and Bonavita lack several key features that would make them easier to incorporate into your life, including a timer that allows you to schedule your brews or reminders to decalcify the machine. The main difference between then Technivorm and the Bonavita is the carafe design. The Technivorm's carafe has a brew-through lid like the one on the OXO, which allows you to keep the carafe closed (and therefore better insulated) while the machine brews. If you're using the Bonavita, you have to remove the carafe lid before brewing and screw it back on afterward if you'd like your coffee to stay hot.
Though we don't think the Moccamaster is worth the exorbitant price for most people, it does have its fans, including some Wirecutter staffers. And for those interested in the simplicity of the Bonavita but turned off by the clumsy carafe, it could be a good choice. Staff writer Lesley Stockton, who covers a range of kitchen tools from chef's knives to blenders, got her Moccamaster before she began working at Wirecutter. After using it as her main brewing method for five years, Lesley has no desire to replace it. "The biggest reason I like the Technivorm is its small footprint. I have a small Brooklyn kitchen and every bit of counter space is valuable," she said. Unlike the bulkier OXO (about 15 inches long and 8 inches wide), the Technivorm is a relatively sleek machine (about 11 inches long and 6 inches wide), though the Bonavita is even smaller. Lesley also notes that the OXO is comparatively difficult to clean (an issue we mention in the Flaws but not dealbreakers section).
If you want something that is easy to clean, explicitly lacks the extra features we think improve the usability of the OXO, has a better-designed carafe than the Bonavita, and still brews good coffee, you should consider the Technivorm Moccamaster.
What To Look Forward To:
Toward the end of 2018, OXO plans to release an 8-Cup Coffee Maker, which is more compact than our current runner-up and also cheaper, at $170. The machine does away with the digital interface for a simple set of buttons and allows you to brew with either a cone or a basket filter. It's also adjustable, so that you can brew directly into a mug or travel mug as well as into the insulated carafe. We plan to test this model as soon as it becomes available.
The new Zojirushi EC-YTC100XB 10-Cup Coffee Maker was not yet available at the time of testing, but we're eager to try it out for our next update. It looks very similar to the previous version, the Zojirushi EC-YSC100, which we've tested and dismissed, but has an added pre-infusion step and claims to heat water to the desired 200 °F.
The Competition:
We were perhaps most hopeful for the newly released Breville Precision Brewer, a sturdily built, $300 machine. Offering settings for "gold" standard filter brewing, quick brewing, cold brew, single-cup brewing, brewing with a basket filter, brewing with a gold basket filter, brewing with a cone, and more (!), this brewer really wanted to be all things to all possible craft coffee people. That said, we found it almost inscrutably tough to get going—the first thing that happens when you turn it on is it asks for the hardness of your water on a scale of 1-5, which you have to measure with an included test strip. Once we fished ours out of its accidental home in the garbage can, it still took more than two hours to dial in a decent brew.
For those who love to tinker and fancy themselves exceptionally particular (and can taste such differences), the time investment in playing with this machine may be rewarding. You can adjust almost everything here, from pre-infusion/bloom duration to water temperature to even the water's flow rate. But if you're just looking to make a good pot of coffee, the learning curve is steep. It's also a loud machine, making quite a racket to bring itself up to temperature. While we're still fascinated by its capabilities, a machine this complex and expensive won't be the right choice for most people's needs.
Our previous runner-up, the Bonavita BV1900TS is an earlier version of the Bonavita Connoisseur. It drew praise for its brews' overall flavor and balance, and came the closest to achieving an ideal TDS reading in our controlled testing. It's super fast too, taking just 5 minutes, 20 seconds to brew a liter of coffee, including a pre-infusion period. However, it's held back by a filter basket that sits directly on the carafe, leaving a drafty gap underneath the machine's shower head. It also has a drippy and clunky carafe that had the worst thermal retention out of all the machines we tested at that time.
We tested a couple of other Bonavita brewers similar to our runner-up, including the Bonavita Metropolitan. This budget-priced (around $80) brewer has a lightweight black plastic construction and a glass carafe. We found that the quality of the coffee didn't quite measure up to the winning pick, plus we think most people will prefer a thermal carafe.
We also tested the Bonavita BV1900TD, a programmable machine similar to the BV1901TS. We didn't like how this machine had the older style of brew basket that sits directly on top of the carafe, as it allows too much heat loss in the gap between the shower head and the filter.
We were curious about the Motif Elements "pour-over style" coffee brewer, one of two new machines being sold by Seattle-based Motif. Both of the Motif brewers we tested are really repackaged Melitta automatic machines with more-contemporary marketing. The Elements, which appears very similar to the Melitta AromaElegance machine, offered a convenient feature that we'd like to see in more brewers: a removable water reservoir. But in general the construction of this machine was subpar (and also unnecessarily huge—who wants a triangular-shaped coffee machine?) and the coffee flat and lacking dimension.
We also tested the Motif Essentials, a smaller version of the Elements. It takes up less counter space, but made brews just as average and had just as flimsy an interface as the Elements—minus the sexy removable water reservoir.
Another glass-carafe model we were curious about, the Bunn Heat N' Brew 10-Cup Programmable coffee maker (an SCA-certified pick), was glacially slow and had a hidden water reservoir we found very hard to measure the right amount into.
We previously recommended the now-discontinued OXO On 12-Cup Coffee Brewing System for readers who needed a larger-capacity machine. But after reading some poor feedback on Amazon, we've decided that we cannot recommend it for most people. Though we liked that you could set aside a portion of the hot water to brew tea, the 12-cup machine is simply too slow. It takes nearly 8½ minutes to brew a liter of coffee and monopolizes almost as much counter space as a separate kettle and coffee maker setup. If this doesn't bother you and you can find it at or around the cost of our picks, rest assured that it works decently well.
Many readers wanted us to test the Zojirushi EC-YSC100 Fresh Brew Plus Thermal Carafe Coffee Maker, so we did. Overall it was only an okay performer, but we can see why people like it. It's on the bigger side, brewing up to 10 cups of coffee, and it has a removable water reservoir for easy filling. It also has easy programmability, and Zojirushi is well-known for the quality of its thermal carafes. But it brewed coffee that tasted over-extracted and bitter compared with the other machines. Its brew temperature was 188 °F, almost 10 degrees cooler than every other machine tested. And it took much longer to brew: more than 7 minutes for a liter batch.
If you like to play around with settings to get the ideal extraction from each bean, the Behmor Brazen Plus—which was part of our first batch of testings—is a good choice because it makes really great-tasting coffee. But it takes almost 10 minutes to brew a full pot from start to finish, which is more than twice as long as our top pick takes. The Behmor is also huge.
The $80 Cuisinart DCC-1200, which was also part of our initial testing, was one of the best-selling coffee makers on Amazon at the time of writing—and has been for more than a decade. But it made coffee that tasted dull in comparison to the $150-plus machines we tested.
KitchenAid's Pour-Over Coffee Brewer has SCA certification, but Consumer Reports (subscription required) found the glass carafe to be drippy, uncomfortable to hold, and difficult to use.
Bodum also makes a bistro pour-over coffee maker, which was met with some favorable reviews. Forbes (not known for its coffee journalism), for example, wrote a dazzling review: "Bodum's B-Over coffee maker is designed not only to look cool, but also to make a great cup of coffee." Other reviews, however, tell a different story. Clive Coffee's Hellweg didn't mince words when he said that the Bodum was "a piece of shit," which echoes many Amazon reviews we saw indicating poor parts quality and design.
There are also a number of boutique-scale coffee makers that are very expensive and well-crafted, but are made in small quantities for enthusiast audiences. Clive Coffee's Ratio machine, the Chemex Ottomatic, and the Wilfa Svart (designed by renowned barista Tim Wendelboe) are three prominent examples. All three of these machines are made for coffee enthusiasts willing to spend more than a couple hundred dollars. Their real perk, beyond the water temperature, is that they brew similarly to manually making a batch of pour-over, pre-infusing the grounds and evenly pouring the hot water. But they generally sell for more than $300, and it's hard to see any concrete benefits they may have over the $100 to $200 midrange machines beyond a pretty face. They're also less widely available than our top picks.
A big thank you to the people at Counter Culture Coffee's New York Training Center for lending us their expertise in testing design, tasting, and measurement, and for lending us their palates and facility for testing.
This guide may have been updated. To see the current recommendations or availability updates, you can read the full "Best Drip Coffee Maker" guide here.