'True Detective:' "Everything Is Fucking"
The world's dark, and maybe it should stay that way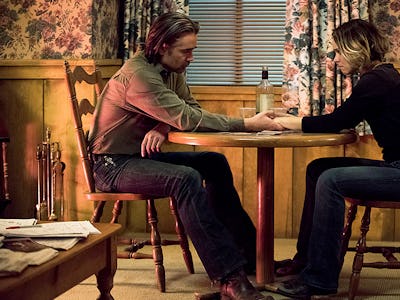 HBO
Some things are wrong, and we can't make them right, so most people would rather see them stay wrong. Throughout True Detective's penultimate episode, "Black Maps and Motel Rooms," the troika of heroes uncover more evidence within a sliver of the episode than they had in the previous six combined. As they discover more and more, however, it becomes apparent that the plot runs much deeper than they could have ever suspected.
The episode begins in a dreary motel room with Paul Woodrugh shuffling through the contracts with "signatures all over 'em." Ani Bezzerides's missing person, Vera, writhes on the bed, coming down from the "too much molly on top of champagne" from the previous night's affluent orgy. Later, in her first speaking scene, Vera encapsulates Nic Pizzolatto's vision for #TrueDetectiveSeason2. She knows all about Ben Caspere and his plan to blackmail his fellow creeps with his favorite Hungarian girl, Tasha. Vera had been "on the circuit" for a minute. She existed in a fucked up world, and she was fine with it. Angry about returning to a normal life with her sister, she tells Ani, "Everything is fucking."
Vera's statement may be vague and less loaded than Pizzolatto would like us to believe, but the rest of Vinci would agree. What we discover, along with Paul, Ani, and Ray Velcoro, is that back in '92, Caspere, Lieutenant Kevin Burris, Police Chief Holloway, and the late Detective Teague Dixon grabbed some diamonds from a heist that left two children orphaned. It was their buy-in to the Vinci government, a bribe that Mayor Austin Chessani gladly accepted. Caspere was killed because he was looking to use a 23-year coverup for a double homicide as leverage. These men fucked the city – some people likely knew – and nobody was interested in making things right. Why bother? It was in the past.
Elsewhere, Ani is in hiding at the motel because she killed a security guard at the orgy. Ray's now in hiding, too, because someone killed Katherine Davis, their only ally, with one of his guns. They've uncovered a huge conspiracy that, now, nobody will believe. They're fucked. They also kinda fall in love, or something, but their hookup felt more like individual sighs of relief than it did care for each other.
Because the other two are trapped, Paul is the only one who can go out to do true detective work. But amid all the Vinci problems, he's getting blackmailed. An unknown number is threatening to out Paul, using photos of him and Miguel (his army buddy/lover) taken by Dixon. Paul goes alone to the underground tunnels of Vinci to meet this person, who turns out to be Holloway, who's aware of the whole uncovering. Paul manages to escape the sticky situation, using Miguel's head as a bullet shield, and nearly fleeing before Burris steps out of the shadows to shoot him twice. Like his partners, Paul is fucked, but unlike them, he can't do anything to change that.
"Black Maps and Motel Rooms" packed in much more information than should have been necessary. The strings are, basically, untangled, but it feels like they shouldn't have been there in the first place. "The Frank Semyon Show" could have easily existed as its own mini-series, giving us meaningless characters like Stan (R.I.P.). Caspere's murder really just took a backseat to a story about government corruption. We spent just as much time on Ani's traumatic four-day kidnapping in the woods as a child as we did on Stan's son – who was just a plot device for Frank.
Finally, we can really no longer hold out hope for a plot intersection between the Vinci investigation and Frank Semyon's plans, mostly because Frank's plans are up in smoke. Ray reports back to his buddy that Blake was, in fact, running a prostitution ring behind Frank's back. Frank takes his sweet time killing Blake, extracting the information he needs: There's going to be a deal between Osip Agronov and the Vinci officials to exchange the $12 million that was meant for the railway. Frank knows Osip is taking over all of his business, so he has made other plans: Steal the $12 million; flee the country. He burns all of his assets (the clubs, the casino) in the process, so Osip can't have them.
Season 2 had its moments of clarity and intrigue, but Pizzolatto has included too many distractions, hoping to develop something "bigger." Ultimately, what we got were some lost souls trying to fix something they couldn't have cared about in the first place. The world is fucked, so you've gotta just live in it.