This High-Tech Backpack Will Last You a Lifetime
The Genius Pack has, well, everything.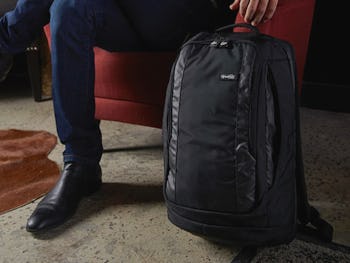 It is the unrealized dream of modern technology to one day find a solution to backpacks. No one in the history of mankind has ever looked or felt better wearing a backpack than while not wearing a backpack. All the same, you're probably gonna need to wear a backpack a bunch throughout your life, so why not make it a good one that can carry a bunch of stuff? That's what the Genius Pack can do, along with charging your phone and keeping a shirt wrinkle-free, two things I am often incapable of just as a general rule.
The Genius Pack's sleek, minimalist exterior is full of unexpected useful features. To start, its rear zipper flaps open to reveal a tri-fold garment suiter (look at all them fancy words) so you finally have a place for your hanging garments. You'll also have a place for your dirty post-gym (or post-four-block-walk-to-the-movie-theater (I'm not judging)) clothes with the Laundry Compression pocket and a way to charge your phone on-the-go with the GP Charger. Whether you're headed to work or on a weekend getaway, this backpack will make traveling easy and makes every other backpack look like a joke.
Normally a cool $198, take 9% off the Genius Pack right now and get it at our new store for $179.99.