'Ballers': The 'Ends' Justify the Ballin'
Spencer sticks his neck out for Vernon, again.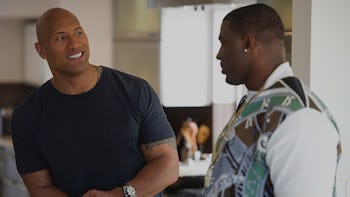 Though I'm not sure I understand the economics of Ballers at all (Why does Spencer bail Vernon out again, without a solid agreement in place between them?), a few of Baller's season-long plotlines are racing toward pay off. Bella finds out about the clubhouse from Melissa, and Ricky finds the road to saving their relationship is a long one. Charles, who just kind of remembers that he wants to get back on the field, paces a high school sideline and ponders that eternal question: "Do you love the NFL, or do you just hate being alone?" Jason, who is first introduced in this episode driving a sweet sports car in one of the most overtly Entourage sequences yet, is putting out a different fire: His mom is banging a younger dude.
'Ends' is a build episode, but it's an entertaining one. Spencer and Joe sit down with Maximo to hammer out a deal, but he demands that Spencer sits down with his client, Angela, before they shake hands. Though we don't know much about Angela — she might be Spencer's ex — Spencer becomes furious and storms out. (Later, he'll tell Vernon that he'll cover the $150k himself in order to keep his business.) Ricky is doing all the right things, more or less, but he's facing the consequences more; he's working hard to make a dent with the Dolphins, but he's having trouble with the playbook. In a bizarre and thrilling scene, Spencer gets into it with eccentric Heat center Chris "Birdman" Andersen.
It's a great show.
This show has a way of keeping its universe ridiculous. This episode came in the form of repeated references to Tae-Bo, a phrase I haven't heard in ten years. I wrote down the phrase "circumstantial brunch" in my notebook, but I'm not sure what that refers to; there's a lot of fucking brunches in this show where characters hash stuff out. The challenges for the characters — Charles and the NFL, Spencer and his CAT scan results, Ricky and his relationships with Bella and his teammates — are starting to snowball. From here on out, it's up to these sports buddies to keep Miami from cooling down.