The One Desk You Need to Upgrade Your Home Office Now
It just so happens to be on sale.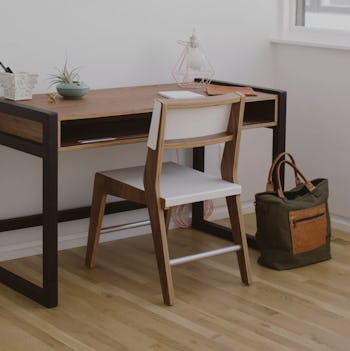 Huckberry
Working from home definitely has it perks (pajamas all day long! no commuting!), but it's easy to get caught up in wanting to lay in bed all day and therefore… getting nothing at all done. This is exactly why you should consider investing in a desk, particularly one that's both chic and designed to fit all the things you need to get through the work day.
Housefish's Pocket Desk will instantly upgrade your home office — and it happens to be on sale right now. Crafted with a blackened ash frame and a Walnut Europly box, this piece of furniture features a front pocket meant to store your laptop, pens, paper, folders, notebooks, etc. There's also a back pocket that'll easily hold chargers, routers and other tech accessories.
And, well, that's about all the features this guy has. And that's the point. Housefish's product line is full of simple but durable, meticulously-crafted pieces. Yes this desk is on the pricey side for just a few features, but it's not often that you find a brand manufacturing its products in the United States and using sustainable materials, paper-based packaging and VOC-free finishes.
You better act now if you're looking for a new spot to (actually) get your work done. Housefish's Pocket Desk is currently marked down to $765 dollars from $850.