Your Can't Miss List to the Best Tech Essentials on Amazon
From chargers to headphones, the best kinds can be found here.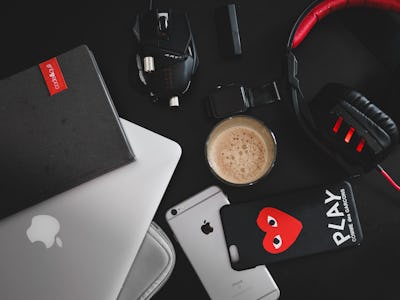 Unsplash / Fabian Grohs
Electronics on Amazon are a tricky business. There are a lot of cheap imitators inflating their ratings out there, especially when it comes to everyday accessories like charging and headphones. Even the bigger companies, your Sonys, your Beats, etc. can miss as often as they hit these days with high-end electronics products.
Which is precisely why I buy the vast, vast majority of my electronics items online from Anker, a premium company that sells at far-less-than-premium prices.
What is it about Anker specifically? I don't know, but it knocks it out of the park every time. Initially dealing in power banks and portable chargers, it's now the go-to brand for all kinds of electronics and accessories, and here's just a handful of our favorites.
The Premium 60W Wall Charger is the absolute pinnacle of charging technology. It can power up your phone, your tablet, your wireless headphones, and your laptop or Nintendo Switch all at once. Never before has there been a viable all-in-one charging solution for every modern device, but guess what. This is it, chief.
The PowerCore Slim is smaller than an iPhone and can fit in even the tightest of pockets, but can still hold enough power for an entire recharge. For a more heavy-duty option, the flagship PowerCore can charge an iPhone 8 nearly 7 times.
Oh, and iPhone users rejoice. The Powerline+ II Lightning Cable is the greatest iPhone charging cable ever invented, with a length of ten feet and a design that threatens never to wear out. Ever met a phone charger cable that could probably outlive you?
I'm also a sucker for the Powerport Wireless Stand, which mixes fast Qi charging technology with the convenience of supporting your phone as a stand, meaning no more craning your neck to check those notifications.
Really, we're just scraping the very surface of what Anker can offer, so check back again for some more of our favorite Anker deals as they come along.