The Best Mattress in a Box You Can Actually Afford
Warning: You'll never want to get out of bed.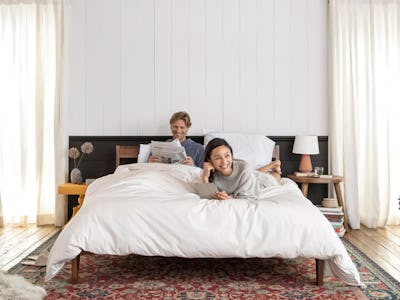 Huckberry
It seems there's a new direct-to-consumer mattress company popping up weekly, each of which want you to spend hundreds (or thousands) on a product you've never tested out. But with all the brands touting the descriptors "soft," "innovative" and "comfort," boasting thousands of positive reviews and offering 100+ day trials with free returns, how do you know which mattress to opt for?
The answer is in the price. Tuft & Needle's mattresses offer everything these other brands do — for a fraction of the price. While a similar Queen from popular startups like Casper and Helix could cost you between $800 and $2,000, Tuft & Needle's retails for just $595.
There has to be a catch, right? Well, there isn't. Tuft & Needle's products are made in the USA with Adaptive foam. This foam provides pressure relief and adapts to your body weight, but isn't too soft that you feel you're sinking into it. Aka, it's the perfect balance for those wanting something not necessarily firm or cushiony that you feel unsupported. Better yet, it's also chemical-free and crafted with heat wicking graphite to keep you cool all night.
If you're (somehow) not sold on the price or its physical features, knowing the mattress will be delivered directly to your door might help. Or how about the fact that the company will take back the mattress for free, and provide a full refund, within 100 days if you realize it's not for you?
Again, some of these features might be available from other mattress in a box brands, but you probably won't be able to find this quality (and comfort) at such a reasonable price as $595.