12 Amazing Buys For A Fraction of the Price
The internet is your one-stop shop for everything, including sales.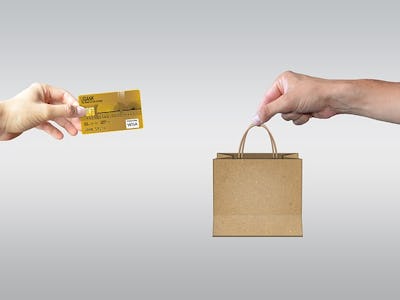 Pixabay
Every so often—and probably more often than any financial advisor would advise—the urge to buy something for yourself that isn't food or an absolute neccessity arises. And if you're like me, you have to research every possible product before you buy it. Not only are you looking for the best brand, you're looking for the best return policy, warranty and of course, the best deal.
If you're like me, you are able to calculate exactly how many hours of your life you are giving away to a company that doesn't even know you exist and you don't take the gift lightly! From hiking shoes to underwear to bulk k-cups of your favorite coffee, whenever possible, you shop the sales. And I don't blame you. To aid in that process, here's a list of the 12 amazing buys for a fraction of the price you'd pay anywhere else.
AXUM Gear True Wireless Earbuds
Best Feature: With a bluetooth range of up to 10 meters, you can workout within 30 feet for your gym bag without worry of launching your smartphone across the room in a moment of adrenaline.
Compare To: $299.00
Savings: 49% off at $149.99
Creseuer Touchwave True Wireless Bluetooth Earbuds
Best Feature: When you want your headphones to work double duty with great audio and a crystal clear mic, these guys should be your first choice. With a stellar microphone sensitivity and CVC Noise cancellation, you can listen to your music with laser focus one second and shift to an important, uninterrupted phone call the next.
Compare To: $99.99
Savings: 55% off at $44.99
Google Analytics Certification
Best Feature: This isn't just a list of products you'll forget about as soon as they no longer serve you, this is a list of bargains of lifelong value. If you've been eyeing a resume booster, you can't go wrong with a Google Analytics certification designed for complete beginners to get a leg up in the new media job market.
Compare To: $199.99
Savings: 95% off at $9.99
Bluetooth Smart Watch
Best Feature: This multi-tasking gadget combines all your favorite things about smart technology with the convenience of a watch. Never miss an important alert with this watch, and check the time with ease without setting off alarms of superiors in meetings.
Compare To: $199.00
Savings: 82% off at $34
Pagico 8
Best Feature: To stay afloat in our present technological climate, there is always something to be done and it is so, so easy to forget and make silly mistakes from lackluster organization. End all possible confusion with task manager, Pagico 8 for Mac—complete with to-do lists, flowcharts, progress tracking and data syncing across multiple devices.
Compare To: $50
Savings: 62% off at $19
The Complete Adobe CC Training Bundle
Best Feature: It's common knowledge that Photoshop is one of the least intuitive programs still available for computers in 2018. Anyone who has ever tried to jump right in is met with a rude awakening. With this bundle, you get a year's worth of access to beginner tutorials for Photoshop, Illustrator, InDesign, Flash & Animate, After Effects and Premiere Pro all for one price.
Compare To: $673
Savings: 95% off at $29
The Complete Learn to Code Masterclass
Best Feature: Learn C++ coding language without the debt of going fully back to school for it. In this guided step-by-step course, get all the benefits of a classroom environment without the expense. You'll learn complex concepts that'll benefit you forever.
Compare To: $1,370.95
Savings: 97% off at $39
Mindbliss Meditation: Lifetime Subscription
Best Feature: What wouldn't you pay for a lifetime of peace of mind? With Mindbliss experiment with 7 different guided meditation styles until you find the one that's right for you, then use it for life.
Compare To: $449.95
Savings: 88% off at $49.99
1080p HD Waterporrof Wifi Wireless Endoscopic Camera
Best Feature: This little guy is complete with an 8-way adjustable LED, is waterproof and has a HD camera that looks just about as good as your very own eyes. Use it as a second set of eyes and broadcast to any Wifi-connected device.
Compare To: $99.99
Savings: 60% off at $39.99
"The Cube" Bluetooth Speaker
Best Feature: The design of this speaker makes it a welcome addition to any curated end table and a conversation starter for any situation it's used. Connect to it via Bluetooth and be amazed at the colorful LED lightshow coming out of this cute little cube.
Compare To: $49.99
Savings: 56% off at $21.99
Qi Wireless Fast Charging Pad
Best Feature: Charge whatever device you have without ever having to search for the right cord. Just lay it down and forget about it.
Compare To: $21.99
Savings: 31% off at $14.99
Pay What You Want: Personal Finance Bundle
Best Feature: The average person is paying $16.25 for access to eight personal finance apps valued at more than $20/each. Up your financial literacy and fulfill those wishes of retiring early with the option to learn all there is to know about personal finance.
Compare To: $656
Savings: 97% off at $16.25