Roberto Clemente: 5 Ways He Nudged Pro Athlete Culture Into the Future
Clemente was a driving force for positive cultural change.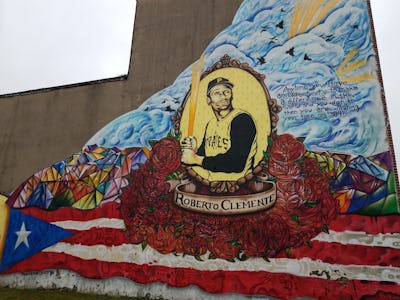 Rashaad Jorden/Flickr
Google honored late Pittsburgh Pirates baseball legend Roberto Clemente with its famous Google Doodle on Friday, recognizing how he brought forth positive cultural change and ushered in a brighter future for many. Among pro athletes, Clemente's acts of social good signaled the start of a new era for sports stars to be more than merely well-paid athletes.
Of course, Clemente was statistically an amazing baseball player. A superior athlete, he won 12 consecutive Gold Glove awards for his right-fielding and amassed 3,000 hits. Clemente could capture the imagination on the field, but seemed to match this other-worldly talent with serious-minded, selfless acts off the field.
Clemente faced racism for being black and being Puerto Rican in America and in Europe (watch video interview below), but demanded to be treated "like any person that comes for a job." In doing so, he pushed forward social expectations for professional ballplayers and athletes in general.
Here are five cultural changes for which Clemente was a driving force for positive change.
1. Delivering Food to People in Need
After the Central American country of Nicaragua was struck by a massive earthquake in December 1972, Clemente boarded a plane on New Year's Eve, filled with relief supplies for the people there. The overloaded aircraft crashed not long after it took off and Clemente died at the relatively young age of 38.
"I want to be remembered as a ballplayer who gave all he had to give," is an oft-repeated Clemente quotation. It's one that took on a new meaning after his death in the service of people who needed it.
2. Setting the Standard for Community Involvement
Clemente made various donations throughout his career, but the legacy he created has proven to be even more powerful. The Roberto Clemente Award, started by Major League Baseball in 1971, annually awards the player who "best exemplifies the game of baseball, sportsmanship, community involvement and the individual's contribution to his team." This encourages players to carry on Clemente's acts of charity. Beyond baseball, Clemente's family established The Roberto Clemente Foundation a nonprofit in his home of Puerto Rico
3. Holding Baseball Clinics for Kids
The economic disparity between the kids who can afford to attend sports camps put on by professional athletes and those who cannot is still alarmingly, maddeningly wide, but Clemente was among the first to organize and sponsor camps that would give every kid who wanted to play baseball the opportunity to do so. It's another initiative that has been carried on by today's players, inspired by Clemente's initial steps. Today, numerous city parks are named for him, as are a two public schools in Brooklyn, New York.
4. He Became the First Latino to Win the World Series MVP
More than 27 percent of MLB players today are Latino, but when Clemente won the World Series MVP in 1971, just 10 percent were. His achievement — the best player on either of the best two teams that season — was a defining moment in what had been a long career, and it is a landmark award for Latino baseball players.
5. He United Hispanics Across America
Clemente's children shared a message with Google on Friday about their father, noting that he "he asked to say something in Spanish to his parents and children in Puerto Rico" after the Pirates won the World Series in '71. The video above shows that moment. "With this act, asking for his parents blessings in Spanish on live global broadcast, he galvanized the hearts of all Hispanics across the nation," his children write. "Today, we are proud that our Dad's legacy is stronger than ever with numerous namesakes like baseball leagues, parks, schools, awards, and statues around the world celebrating everything he represented and stood for, including standing up against injustice and the importance of humanitarianism. Our Dad was an incredible athlete, but more importantly, he continuously used his platform to better humanity."
Related video: WWE's Titus O' Neil: Roberto Clemente Helped Break Barriers for the Hispanic Community