Chicago Bears vs. Miami Dolphins: Preview and A.I. Predicts Winner
The Bears now trundle into South Beach for a matchup against the Phins.
by T.E. Andrews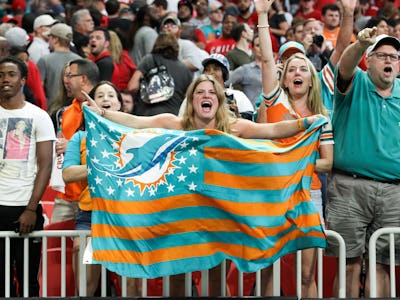 Frank Mattia/Icon Sportswire
Were it not for A-a-ron Rod-gers' gimpy heroics in the season opener, da Bears could be undefeated.
After getting edged narrowly by the Pack in Week 1, Chicago has rebounded to win three in a row. Sure, the Cardinals look poised for a high draft pick next year, but wins over the Seahawks and Bucs ain't half-bad. The lesson? Never stop searching for the Truthbisky, as he will set you free – even if you have to give up a boatload of picks for your gridiron savior.
After slinging six (‼‼‼) touchdowns in the Bears' win over the Bucs two weeks ago, quarterback Mitchell Trubisky's teammates reportedly refuse to allow him to remove his arm sleeve, which they credit for his success. Hey, if it ain't broke, don't fix it. Let us now bow our heads in a moment of remembrance for Allen Iverson, the once and future arm sleeve GOAT. Swag recognize swag.
The Bears now trundle into South Beach for a matchup against the Phins. Miami started the season 3-0 before cooling off, dropping back-to-back games against the Patriots and the Bengals. Sad to say, we called it. We've seen this movie before. It's a tragedy. Everyone dies at the end. Expect the Dolphins to continue their slide back down to the break-even mark, while the Bears' magical season continues. Party in the city where the heat is on. Bears 21, Dolphins 17 is my prediction but how did a hive-mind of NFL experts predict this match-up?
To predict the result of this Week 6 match-up, Unanimous A.I. used what's known as swarm intelligence to forecast the week's slate. Some 2 NFL enthusiasts worked together as a hive mind to make picks. As you can see in the animation below, each participant controlled a little golden magnet and used it to drag the puck toward the answer they thought was the most likely outcome. As the users saw the puck move toward a particular decision, it triggered a psychological response. They readjusted their decision-making, building toward the consensus you see below. It's an artificial intelligence produced by human brains working together as a swarm.
The swarm of football fans were quick to choose that they have "low confidence" that the Bears will win on the road in Miami. Web both think this will be a close one.
The Bears play at the Dolphins at 1 p.m. Eastern Sunday on Fox.
Unanimous A.I. has made some scarily accurate predictions in the past using swarm intelligence, as our this article explains. For instance, the swarm picked this year's Oscar winners with 94 percent accuracy. Here's Unanimous A.I. founder Louis Rosenberg explaining swarm intelligence at a recent TEDx Talk: