Who Wins Dolphins at Patriots? A.I. Predicts
Will the Patriots beat the spread?
by T.E. Andrews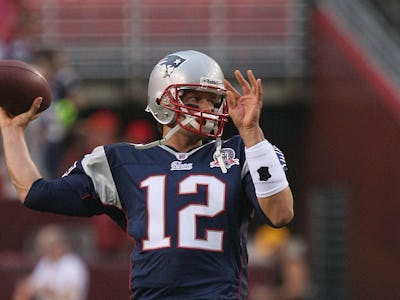 Flickr / Keith Allison
We've all seen this movie before. The Patriots drop a game or two in September, and the whispers mount: Is our long national nightmare finally over? Has the oppressive reign of the Patriots finally come to an end? Has Father Time managed to kick some dirt on Tawm Brady's Uggs?
No, no, and no. Having seen said film, we (should) all know how it's going to end: with the Patriots in the AFC title game or worse, the Super Bowl, as Bill Belichick cackles maniacally on the sideline, covered in his opponents' entrails. And yet we cling to hope, that most dangerous of all emotions, like lint to a navel.
New England has stumbled out of the gate, winning just one of its first three games. The offense lacks playmakers aside from Gronk, and the defense looks porous and slow. The panacea for these ills remains the same: some home cookin' and a diet chock-full of divisional opponents. The Patriots get six games each year against the Jets, Dolphins, and Bills. Let that sink in. Bank six wins against the rest of the division, split the remaining 10 games, and you're looking at 11 wins per season, at a minimum. The Patriots have done just that, or better, for the past decade.
On the other sideline, the Dolphins have surprised this season and remain among the league's unbeatens. They also remain the Dolphins. To paraphrase our nation's 43rd president, fool me once, shame on you. Fool me twice… you can't fool me twice. Take New England at home, although it won't necessarily be pretty. Patriots 27, Dolphins 20, is my own prediction, but how do a hive mind of football experts think the game will turn out?
To predict the result of this Week 4 match-up, Unanimous A.I. used what's known as swarm intelligence to forecast the week's slate. Thirty NFL enthusiasts worked together as a hive mind to make picks. As you can see in the animation below, each participant controlled a little golden magnet and used it to drag the puck toward the answer they thought was the most likely outcome. As the users saw the puck move toward a particular decision, it triggered a psychological response. They readjusted their decision-making, building toward the consensus you see below. It's an artificial intelligence produced by human brains working together as a swarm.
The swarm of 30 NFL experts predicts that New England will not only win over Miami, but by at least 7 points, or a touchdown. What's more, the swarm is 82 percent confident in it.
The Dolphins play at the Patriots at 1 p.m. Eastern on Sunday on CBS.
Unanimous A.I. has made some scarily accurate predictions in the past using swarm intelligence, as our this article explains. For instance, the swarm picked this year's Oscar winners with 94 percent accuracy. Here's Unanimous A.I. founder Louis Rosenberg explaining swarm intelligence at a recent TEDx Talk:
In related news, Unanimous A.I. recently presented a scientific study of its ability to forecast games in the National Hockey League. In a 200-game, 20-week-long study of its Swarm AI in the NHL, it was able to easily outperform Las Vegas expectations, and its "Pick of the Week" was right 85 percent of the time, producing a 170 percent ROI. The paper, titled "Artificial Swarm Intelligence versus Vegas Betting Markets," was presented at the at the IEEE Developments in eSystems Engineering Conference (DeSE 2018) this month at Downing College in Cambridge, England. In a press release issued with the study, co-author Gregg Wilcox says the technology can be applied to matters outside sports, too. "While it's fun to predict sports, we are currently applying the same techniques to a wide variety of other domains, including financial forecasting, business forecasting, and medical diagnosis, all with positive results."