Tesla Offers Free Range Extensions and Charging During Hurricane Michael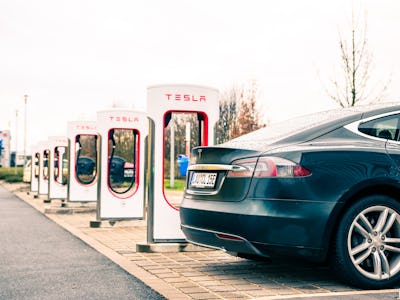 Flickr / JayUny
Tesla is helping out customers affected by Hurricane Michael. The company confirmed via its Twitter page Wednesday that it will offer free range extensions to enable its electric vehicles to move further on a single charge, while also enabling free access to its superchargers.
The offer comes as the storm sweeps across the Florida panhandle, which led to authorities calling on 120,000 people to evacuate on Tuesday as wind speeds picked up to 110 mph across the Gulf of Mexico. Tesla will allow owners of an applicable 40 kWh, 60 kWh or 70 kWh vehicle located in the area to access 60 kWh or 75 kWh of capacity. The company is able to do this because these cheaper cars shipped with the same size battery as its more expensive vehicles, but the onboard computer shipped with a software lock to use a smaller capacity.
Tesla tells Inverse that owners eligible for the upgrade will see the following message:
We are temporarily enabling your car to access additional battery capacity, as well as free Supercharging, in preparation for Hurricane Michael. We hope that this gives you the peace of mind to get to a safe location, and will notify you before returning your car to its original configuration later in October. Badging on your display may adjust during this period. Safe travels!
See more: Tesla Offers Free Range Extensions During Hurricane Michael
The company is also offering free use of its superchargers to residents, the 120-kilowatt charging points that can fill up most of a car's battery in around 30 minutes. All superchargers in South Carolina, North Carolina and Georgia have free charging for all, plus selected chargers in Alabama (Auburn, Greenville, Mobile) and Florida (DeFuniak Springs, Lake City, Live Oak, Tallahassee).
It's not the first time it's made such an offer: the company previously unlocked temporary extra battery range for Florida residents during Hurricane Irma last September, with an over-the-air software update for customers in the path of the storm. During Irma, the initiative meant that Tesla Model S and X owners with a "60 kWh" battery had access to 30 percent more storage. The extra capacity resulted in around 30 to 40 miles more range. Tesla discontinued the X and S versions of these vehicles in October 2016 and April 2017 respectively, leaving the 75 kWh model as the base.
The price of the software unlock has varied over the years, initially costing $9,000 for the Model S 60 and dropping to just $2,000 by the time of the car's discontinuation. Tesla follows a similar strategy with enhanced Autopilot, available for $5,000 at time of purchase or $6,000 thereafter, and full autonomous driving, dependent on enhanced Autopilot and available for $3,000 now or an expected $5,000 after the feature is released. The hardware to power these features is present at the time of shipping, and users can pay to unlock them through the in-car touchscreen — bar the full self-driving, which will use an advanced A.I. chip due for shipping at a later date.