Nintendo Switch 2? Report Claims Upgrade Set to Launch Next Year
It could face tough competition from PS5 and Xbox 'Scarlett.'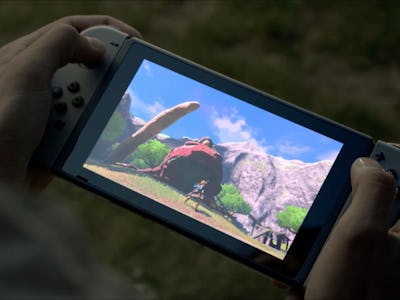 GameSpot
Nintendo is planning to release a new version of the Switch in 2019. That's according to a Thursday report, which claims the company is seeking to maintain the strong sales momentum of its portable hybrid console with some key tweaks to entice more consumers.
The Wall Street Journal report claims Nintendo is still weighing up its options for hardware and software changes. One suggested option is to improve the built-in display, which uses a notably low-resolution 6.2-inch LCD screen with 1,280 by 720 pixels. The upgrades would be aimed at making the screen brighter, more energy-efficient and thinner, but the article clarifies that expensive OLED technology similar to that used in the iPhone X is unlikely. The article also states that the new version would "likely share many features with the current version and be compatible with existing Switch game software."
See more: How Microsoft 'Xbox Scarlett' Game Streaming Box Will Beat PlayStation Now
The Switch has been a runaway hit for Nintendo, surpassing the lifetime sales of its previous home console the Wii U less than 12 months after going on sale. Fans are eagerly expecting upcoming titles like Super Smash Bros Ultimate and Pokémon Let's Go, but rumors are already swirling that Sony and Microsoft are gearing up to launch upgrades to their console lines. Companies traditionally release a new games console every five to six years, and with the PS4 and Xbox One launching in 2013, Nintendo could face stiff competition from a PlayStation 5 and Xbox "Scarlett."
It's unclear whether any exclusive titles would launch for the new Switch. While mid-cycle console revisions like the PS4 Slim and Xbox One S offer no exclusive games over their predecessors, Nintendo has form for releasing exclusive games for such revisions. Xenoblade Chronicles 3D was a game exclusive to the New Nintendo 3DS, a handheld that launched in 2014 three years after the 3DS with upgrades like a faster processor. The Nintendo DSi, which launched in 2008 four years after the DS, also offered a handful of exclusive games like Foto Showdown that took advantage of upgrades like the camera.
The revised Switch is expected to launch in the second half of next year, perhaps as early as the summer.
While Nintendo has gone all-in with portability, Sony and Microsoft could take a different approach, with the latter rumored to focus on game streaming.