Here's When You Can Expect Your Next President Alert After Trump Message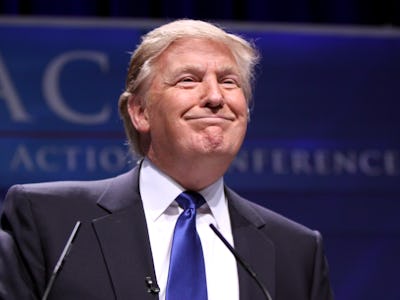 Flickr / Gage Skidmore
President Donald Trump sent a text alert to almost every phone in the United States on Wednesday, and there's more where that came from. The Federal Emergency Management Agency, or FEMA, conducted its first-ever test of the Presidential alert system with a simple message broadcast, and the law mandates regular checks of the same system.
The system was intended to send one message at 2:18 p.m. Eastern time that reads "THIS IS A TEST of the National Wireless Emergency Alert System. No action is needed." The Wireless Emergency Alert system that powers the message delivers the alert to carriers through the Integrated Public Alert and Warning System, while also running a message to radio and television through the older Emergency Alert System. It didn't go quite to plan, with some reporting multiple alerts, delayed messages, or no alert at all. The system, designed for alerting the public to emergencies, first became operational in 2012. A 2015 law mandates that the agency must conduct another test at least once every three years:
See more: President Trump Will Send His First Alert to Almost Every Phone Today
There's a high chance that the next test alert will take place within a new presidential term, whether that's under Trump entering his second term or a newly-elected challenger to the current president. Potential nominees tipped for the Democratic Party include established figures like Bernie Sanders and Cory Booker, as well as more out-of-left-field names like Dwayne "The Rock" Johnson and Oprah Winfrey. The Presidential Alert system has its roots in the George W. Bush administration, but nobody knows for sure who will be the president to issue its second-ever test alert.
Users can't opt out of the service, unlike with AMBER alerts and similar messages, but the system is designed for use in severe emergencies like a natural disaster or act of terrorism. A senior FEMA official told reporters that "the President will not originate this alert, say, from his mobile device…you would not have a situation where any sitting president would wake up one morning and attempt to send a particular message."
Don't expect a hand-crafted morning message when the next test alert arrives in 2021 or sooner.