Tesla's Board of Directors Just Responded to the SEC Suing Elon Musk
The commission has filed a civil suit against Musk.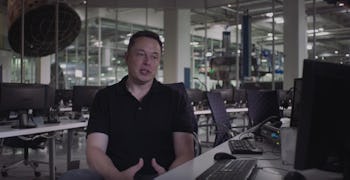 Magnolia Pictures
Tesla CEO Elon Musk is being sued by the Securities and Exchange Commission, following his controversial announcement that he planned to take the company private at $420 per share. The commission claims in a document filed Thursday that Musk made a series of false and misleading statements, leading investors to believe that funding for the plan was secure and the main barrier to its implementation was a shareholder vote. The action could lead to a ban on Musk leading a public company.
Tesla and the board of directors remain confident in the CEO, sharing the following statement with Inverse:
Tesla and the board of directors are fully confident in Elon, his integrity, and his leadership of the company, which has resulted in the most successful U.S. auto company in over a century. Our focus remains on the continued ramp of Model 3 production and delivering for our customers, shareholders and employees.
The action, filed with the United States Southern District Court of New York, details "a series of false and misleading statements" Musk made over Twitter on August 7. He claimed that he was considering taking Tesla private with the option of buying back investor shares at $420 per share, a near-20 percent bonus over the day's trading price. The statement caused the price to surge nearly 11 percent by the end of trading that day. Musk explained in a post after his tweets that he left a July 31 meeting with the Saudi Arabian sovereign wealth fund with "no question" that a deal was possible.
"Musk knew or was reckless in not knowing that each of these statements was false and/or misleading because he did not have an adequate basis in fact for his assertions," the commission wrote in its statement. "When he made these statements, Musk knew that he had never discussed a going-private transaction at $420 per share with any potential funding source, had done nothing to investigate whether it would be possible for all current investors to remain with Tesla as a private company via a 'special purpose fund,' and had not confirmed support of Tesla's investors for a potential going-private transaction."
The plan reached an advanced stage, as the company's board of directors announced a three-person committee to review the plans and Musk announced a team of advisors to work through the plan's finances. Musk abandoned his plan to take the company private on August 24, claiming that investors urged him to reconsider.
"This unjustified action by the SEC leaves me deeply saddened and disappointed," Musk said in a statement provided to Inverse. "I have always taken action in the best interests of truth, transparency and investors. Integrity is the most important value in my life and the facts will show I never compromised this in any way."
Read the full document, uploaded by Electrek, below: