'No Man's Sky' Could Enter Virtual Reality
Be the hotshot space pilot you've always wanted to be.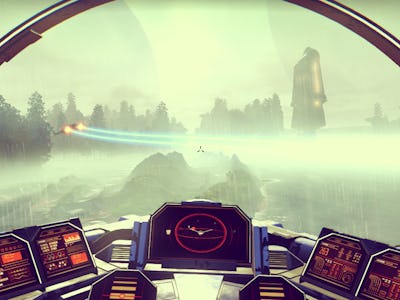 Hello Games
It was the year of virtual reality at E3, but No Man's Sky, an endless game designed to allow players to explore a self-generating universe, was the most dazzling thing on display. Now the star of the show and the trend of the show are becoming one.
In an interview with Edge Magazine, Sean Murray, Director of Hello Games, confessed that the game's playability on Oculus or Sony's Project Morpheus has been explored.
"It's something we're thinking about. Morpheus, Oculus … There's nothing more cool and sci-fi than VR and a big procedural universe. I think that, for the people who want to just explore, and even for the space combat and things like that, it would be a good fit. Let's put it that way."
Consumer VR is still in its infancy, but the boundless ambition of the game on those platforms would be a technical wonder.
Boundless in scope, No Man's Sky is an adventure/survival/sci-fi game that will allow players to explore a deep space that continually evolves. Players will traverse unexplored planets and send back information to "The Atlas," a central database that will collect and share all the discoveries the community finds. While exploring, players will need to find resources and materials and trade with other ships while avoiding Sentinels, who will attack players for harvesting too many resources or killing too many lifeforms.
Slated for Windows PC and PlayStation 4, the game's non-VR release date is still unknown.