Here's Everything You Need for the Perfect Night's Sleep
Because that "glass of warm milk" thing is totally a myth, dude.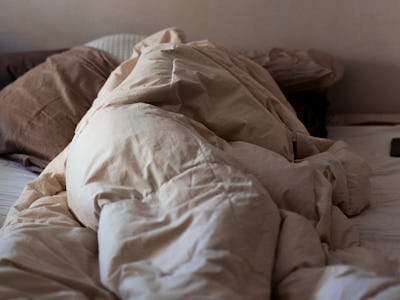 Unsplash / jurien huggins
Sleep: We all love it, we all gotta have it, and pretty much everybody doesn't get nearly enough of it. The worst part is, not getting enough sleep can stress you out, and can cause you to stress y=out while you're supposed to be sleeping, causing even less sleep! It's a cruel cycle and I hate it, and I've tried literally hundreds of tricks to help me discover that elusive eight-hour slumber.
Some say it's genetics, some say to move your bed closer to the window, others say all manner of emotional and physical issues can affect a human's ability to sleep, and sleep well, day to day. What we do know is that there are all kinds of proven methods and things and gadgets and tricks out there for relaxing, going to sleep, and, crucially, staying asleep. There are our favorite products that will help you find the perfect formula for the perfect night's sleep.
##Memory Foam Pillow
A good pillow sets the tone for a good night's sleep. Memory foam is the best of the best because it offers support, breathability, and comfort. Here's our pick, with a budget option, too.
Coop Home Goods Premium Memory Foam Pillow [Amazon, $59.99]
WEEKENDER Ventilated Gel Memory Foam Pillow [Amazon, $29.99]
Weighted Blankets
You know that feeling you get when you've just woken up and you're stretching and you feel you could stay in bed forever? Weighted blankets make you feel like that all night long. Both these options come with stellar reviews from customers and, crucially, won't overheat you at night.
Quility Premium Adult Weighted Blanket [Amazon, $111.76]
'Weighted Idea' Cooling Weighted Blanket [Amazon, $68]
Blackout Curtains
Blackout curtains not only guarantee a consistent lighting situation in the bedroom, but also help block noise, too. You can't go without these.
AmazonBasics Blackout Curtain Set [Amazon, $28.95]
NICETOWN Blackout Curtains Panels for Bedroom [Amazon, $29.99]
Blue Light Filter
The dreaded blue light from laptop and phone screens is a blight on the concept of a good night's sleep. We're close to solving it, though. Check out these filters for both laptops and phones right here.
Forito Blue Light Screen Protector (15.6", 2-Pack) [Amazon, $26.99]
SmartDevil Anti Blue-Light Screen Protector for iPhone [Amazon, $12.99]
White Noise Machine
If dead silence isn't on the cards in your sleep situation, maybe go in on a white noise machine, which produces a calming whirr that helps filter out traffic noise and the sounds of your roommate assembling a bowl of cereal at 4 am.
Marpac Dohm Classic White Noise Sound Machine [Amazon, $44.95]
Dimmable Lamp
It's essential to figure out a bedtime lighting setup. The period before you go to sleep is vitally important, and instead of binging six episodes of Frasier in a row, you should probably invest in some dimmable lighting to help get in the mood for napping.
AUKEY Warm Light Table Lamp [Amazon, $26.99]