A New Zealand School Crushed a War Dance for a Teacher's Funeral 
Possibly the best haka ever caught on video.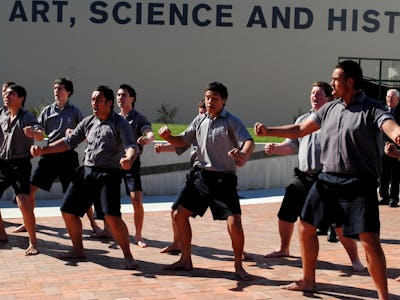 The Governor-General of New Zealand
Even casual fans of rugby are familiar with the haka. The New Zealand national rugby union team (a.k.a. the "All Blacks") performs the war dance before matches in an effort to make the other squads shit their pants while sucking their thumbs — in that precise order. Watch an example and see if you don't do the same:
Opponents of the All Blacks have good reason to be intimidated: They won the above World Cup final against France and are heavily-favorited to repeat as champions when this year's contest begins in mid-September. But, the haka isn't just for guys with tight shorts and cauliflower ears.
While the war dance of the Māori people has become its most famous iteration, hakas have a traditional foundation in New Zealand welcoming ceremonies, weddings, celebrations, and funerals. And that's where the students from Palmerston North Boys' High School come in.
Around 1,700 students performed a dance for their late teacher Dawson Tamatea. He taught P.E. and math at the school for almost 30 years and was revered. For proof, check out their kickass sendoff. If it doesn't give you three pounds of goosebumps, check your pulse.
I played rugby for an all-boys high school, and we used to do the haka. So, I can say that this — without question — is one fantastic rendition. These dudes have all the elements: They're loud, they stomp, they grunt, they're in sync and they do the tongue flourishes. And, perhaps most importantly, there are a shitload of them. It's quite moving — especially in the silence which follows — and has a rawness that turns to elegance. It also makes you rethink three-volley salutes and bagpipes as rites of passage in the U.S. Let's get some funeral hakas going over here, stat.