SpaceX's Moon Passenger Shares Photo of Ambitious BFR Under Construction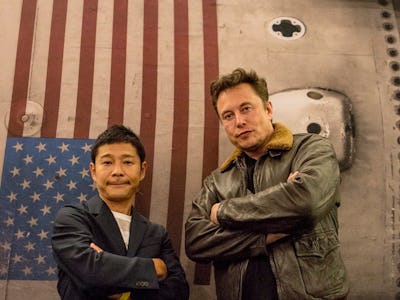 Yusaku Maezawa/Twitter
The BFR is under construction, and it's going to take one passenger on a trip around the moon. SpaceX CEO Elon Musk announced on Monday that Japanese billionaire Yusaku Maezawa will fly on the company's giant rocket, alongside six to eight artists in a five-day trip dubbed "Dear Moon." Maezawa followed the announcement by sharing an image of a major rocket component.
The image, shared on Maezawa's Twitter page, is a key indicator that Musk's ambitious rocket plan is more than just a concept on paper. First announced at the International Aeronautical Congress in Adelaide, Australia, last September, the BFR is designed to take the first humans to space with a fully-reusable design that eclipses even the Falcon Heavy in terms of size and power. Musk responded to Maezawa's image by explaining that he's standing on "the first BFR airframe/tank barrel section made of a new carbon fiber material."
See more: Yusaku Maezawa Is Revealed as SpaceX's First Lunar Passenger
Maezawa, a 42-year-old businessman that founded the retailer Zozo, is set to become one of the first people to visit the moon since the last Apollo mission in 1972. He plans to invite artists like painters, architects and sculptors on the trip in a bid to inspire them to create dazzling new works. Maezawa cited "Beethoven's Moonlight Sonata, Van Gogh's Starry Night, and The Beatles' Mr. Moonlight" as examples of previous works inspired by the moon.
The BFR itself differs somewhat from previous depictions. Now featuring actuated forward fins, the new design has drawn comparisons to the Tintin comics. Each vehicle will be able to support a payload weight of 100 metric tons. The end goal is to set up propellant refuelling stations around deep space, so humans can shift a large amount of weight around the solar system. Maezawa's trip will help fund this development.
The trip has a tentative scheduled launch date of 2023. That places it in around the same targeted time frame as the first Mars missions, with the first two unmanned BFR rockets expected to visit the planet in 2022. Ahead of the lunar launch, Maezawa will reach out to top artists to choose people to accompany him on his groundbreaking voyage.