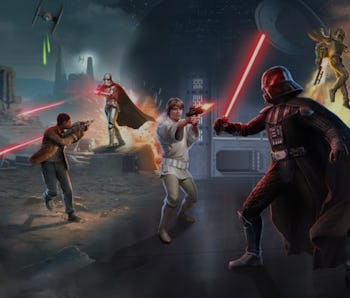 Entertainment
Disney Isn't Offering Refunds for Canceled Mobile Game 'Star Wars: Rivals'
The game never even got an official release.
Disnet
Disney has unceremoniously canceled Star Wars: Rivals, an upcoming free-to-play mobile game that was briefly available in beta.
The company announced the news on Wednesday, revealing that anyone who already downloaded the beta will be able to play until October 11, 2018. After that, the game will be officially "retired" in Disney's words. In the meantime, in-app purchases have already been shut off and there's currently no way to download Star Wars: Rivals if you haven't already.
Finally, Disney notes that "no refunds or credits will be offered for any virtual goods, game currency or other items purchased by or provided to you." This seems like an odd decision, considering that anyone who did spend money on the game already likely did so assuming they'd have more than just a few months to enjoy it. The fact that Star Wars: Rivals put a heavy focus on in-app-purchases, according to early reviews, only makes matters worse.
Android Police tested out the game back in July, 2017, calling it "a free-to-play corridor shooter rife with poor controls, repetitive levels, and loot crates that are explicitly tied to plenty of in-app purchases." The game essentially pressures players to spend real-world money on Crystals, an in-game currency that could be used to purchase loot crates that allowed you to unlock new heroes. The entire system sounds unnecessarily complicated, also involving some other inscrutable collectible called Data Tapes that you could purchase with Crystals.
In short, Star Wars: Rivals used the same sort of gambling mechanics that got everyone so mad at Star Wars: Battlefront II for exploiting. So the fact that this game was cancelled before it even launched is largely a good thing. It's just a shame Disney isn't willing to go the extra step and refund the fans who poured their money into the now-scuttled app.