The One TV Under $500 You Need to Own
We've found the best deal on the best TV out there.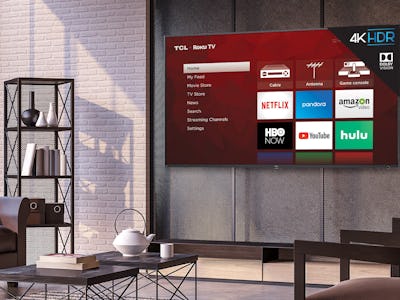 Cord Cutters News
Didn't you hear? The age of cord cutting is over and TV is back in style, baby. No, that doesn't mean you're suddenly going to become your dad and obsessively DVR every single episode of Burn Notice that you can get your hands on. It just means that, from the casual gamer to the movie nerd, using your tiny laptop screen for everything doesn't really cut it anymore.
TVs are expensive, especially when the big-name brands are coming out with all kinds of bells and whistles attached to their top-of-the-line models to stay "innovative" Remember 3D TVs? Curved screens? Those lasted about as long as I thought they would. Honestly, most everyone will have a near-perfect viewing experience by just keeping it simple: A fairly big 4K TV is really the only thing anyone really needs, and we think we've found the perfect one.
The TCL 55-Inch 4K TV doesn't come with anything fancy, because that's not what TVs are about. Here's what you need to know: It's an Ultra HD LED television with deep blacks, Roku integration, 3 HDMI ports, and it's under $500. That's literally all you should care about.
On top of that, the TCL maintains a steady 4-Star rating on Amazon from over 200 satisfied buyers, and do you know how much people love to complain about even the smallest problems with TVs? 4 stars is practically a miracle.
For gaming, streaming, or seriously immersive movie-watching, the TCL TV does everything you want a top-range television to do for a mid-range price. Usually $700, Amazon has it on sale right now for $479.99