Elon Musk Confirms Tesla Will Take 2 Colors Off Menu to Simplify Production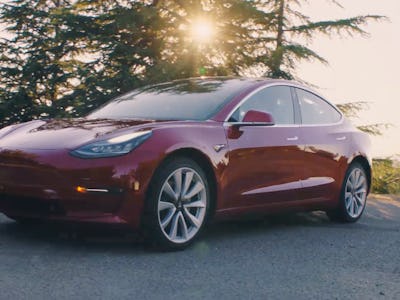 Tesla
Tesla is planning to take two colors off the menu, as it aims to get more electric vehicles into the hands of prospective buyers. The company announced on Tuesday that it will remove metallic silver and obsidian black from its online listings, as it aims to push past its 7,000-car-per-week total production rate and reach even more consumers.
Musk told his 22.5 million followers that the company was making the move for all three models "to simplify manufacturing," and that the two colors "will still be available as special request, but at higher price." An email received by Electrek shows the company will raise the price of the two color options from $1,500 to $2,000 from Thursday, September 13. The company plans to phase them out completely from Friday, September 21. Musk also confirmed that this will not affect repair times, as "service will stock all colors."
See more: Elon Musk Details the Complexity of Building a Tesla First-Hand
Tesla has been pushing to reach a goal of producing at least 50,000 Model 3 vehicles in the third quarter. A recent report claimed that Tesla missed its internal goal of reaching a production rate of 6,000 vehicles per week, on top of the 2,000 Model S and X vehicles it produces, making only around 6,400 vehicles total with 4,300 Model 3 vehicles. Reservation holders that have paid $1,000 for their place in line, which stood at under half a million when production started in July 2017, are eagerly waiting to transfer their deposits into full-blown cars.
The plan is unlikely to go down well with consumers, though. Musk told YouTuber Marques Brownlee (known as MKBHD) during a factory tour video that the most popular color customers order is black followed by white, with black commanding a marginal lead in American sales but proving far more popular than white in Europe. Tesla will still maintain "solid black" and "midnight silver metallic," but the metallic sheen in the obsidian coating has earned it a number of fans in Tesla communities.
Tesla is expected to produce its next earnings report, which should offer more details about its production rate, at the start of November.