The New 'Spider-Man' Will Be Funny, Says Screenwriters
What's the deal with all these webs?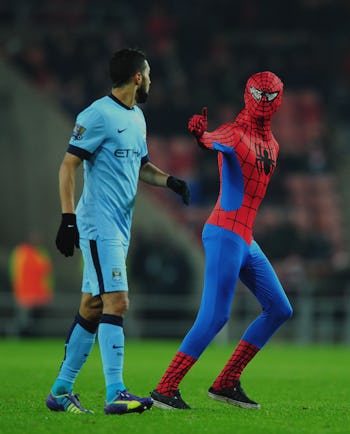 Getty Images
The writing duo behind the new Spider-Man movie due in 2017 are really serious about making you laugh your pants off.
John Francis Daley and Jonathan M. Goldstein, who have collaborated on Horrible Bosses, Cloudy With a Chance of Meatballs 2, and the upcoming Vacation, recently talked to NPR about their intended direction in penning the as-of-yet untitled Spider-Man movie.
"He's a sharp kid and witty and kind of deals with the fact that he's an outcast and a geek through humor," Daley says. "It is sort of the safety net for geeks like us, so I think we can totally relate to where he's coming from. As well as the superpowers, which we also have."
This is a great thing to hear about any interpretation of Spider-Man. He's a funny character. He's not Batman — he's goofy and dorky and can't talk to girls. But under the mask he can riff on Rhino or Mysterio like a Reddit commentator.
In fact, that was kind of the driving theory behind Marc Webb's interpretation of the character.
"Peter becomes witty when he's got that protective layer. It's like he's on a message board," Garfield said to SFX Magazine during promotion for The Amazing Spider-Man in 2012. "He's got the anonymity of the Internet within that suit, and he can say whatever the hell he likes … He can f— with people and there's no consequences because nobody knows who the hell he is. We all know how powerful and potentially dangerous that anonymity is."
But no matter how aware of Spidey Webb and Garfield were, it didn't click. Both Amazing Spider-Man pictures were dreadfully grim, and Spider-Man's snark felt out of place. Meanwhile, the opposite happened with Sam Raimi's earlier films, where it was bright and cheerful but Tobey McGuire was far too much of a sourpuss. (No, his dancing in Spider-Man 3 was the result of the symbiote; he wasn't being himself.)
The new Spider-Man is going to try to make you chuckle when it comes out July 28, 2017.