This Cheap Gadget Is the Secret to Making a Dumb Home a Smart Home
Even the world's biggest technophobe should have one of these.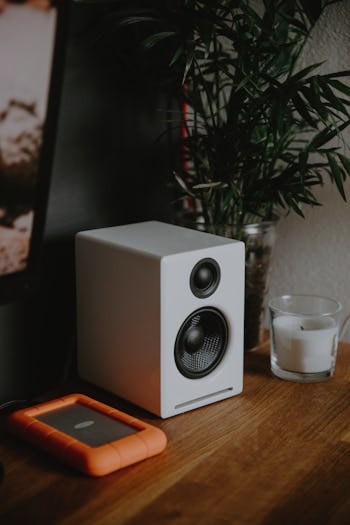 Unsplash / Greg Tockner
The latest trend of life-improving smart home items is cool, yes, but damn expensive too, right. Being able to adjust your home lighting throughout the day is a luxury. Watching Vine compilations on YouTube on your actual TV is a minor miracle. I'm sure someone, somewhere, is yelling at their dishwasher to do something weird as I write this.
All of these cool new home utilities serve purposes, yes, but even if you're an old tech holdout who'd sooner take to the woods than install an Alexa, there's one key smart home item you should consider, one that merges old technology with new in a way that not only makes sense, but makes your life easier: The Bluetooth receiver.
ecause even the most technophobic among us likes to blast our Spotify playlists when we have company over, or when we're cooking, or when we're just chilling in our rooms, and the best way to do that is obviously through some nice smart speakers. But, bear with me here, what if you have dumb speakers? The era of the 35mm audio jack in phones is gone, and even the best Tame Impala songs sound like trash through your laptop's tinny speakers. Instead, this tiny $15 device attaches to literally ANY speaker system with an audio in port, and can connect to your phone or laptop's Bluetooth to play any and all songs, noises, podcasts, audiobooks, ad nauseam. All wirelessly
A good set of high fidelity Bluetooth speakers can cost hundreds if not thousands of dollars. This little dongle costs about as much as a food delivery order for one. What are you waiting for?