"Luzia" Woman Skull, Oldest in Americas, at Risk From Brazil Museum Fire
A blaze has torn through the building.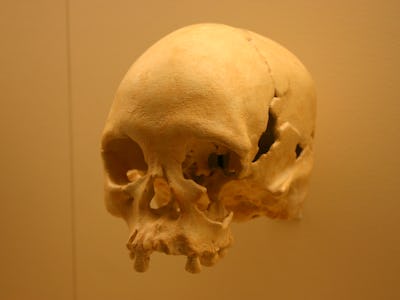 Wikimedia Commons
A fire engulfed Rio de Janeiro's National Museum on Sunday evening, Brazil's oldest such scientific institution and home to over 20 million historical items. Among the artifacts potentially engulfed in the blaze is "Luzia," the oldest dated skeleton in the Americas.
Firefighters battled with the blaze that has largely subsided by Monday morning, but the catastrophe left the country shaken. The full extent of the damage is unclear at this stage, but a fire brigade spokesperson said that "we were able to remove a lot of things from inside with the help of workers of the museum." President Michel Temer described the event on Twitter as "a tragic day for the museology of our country," and that "200 years of work research and knowledge were lost."
"Luzia" is the skull of a young woman that is said to have walked south-central Brazil some 11,500 years ago. Her nickname, according to Cabrillo College, is an homage to the "Lucy" African fossil that dates back some 3.2 million years.
The skull was first discovered in Brazil's Lapa Vermelha in 1975 by French archeologist Annette Laming-Emperaire, around 40 feet below mineral deposits. The large amounts of limestone helped preserve the artifact for longer. She is believed to have been in her twenties when she died, and she stood just under five feet tall. "Luzia" appeared to come from a group that nuts, fruits and berries, occasionally eating meat.
Scientists produced a recreation of her face in 2010:
Walter Neves, an anthropologist at the University of Sao Paulo, announced in 1999 that himself and his colleague Hector Pucciarelli had taken the remains out of storage three years prior to study them further. The team found that the age of the organic material around the skull showed it was the oldest in the western hemisphere, predating that of a Buhl, Idaho, skeleton that was just over 10,000 years old.
"We can no longer say that the first colonizers of the Americas came from the north of Asia, as previous models have proposed," Neves told the New York Times. "This skeleton is nearly 2,000 years older than any skeleton ever found in the Americas, and it does not look like those of Amerindians or North Asians."
The lack of collagen in the skull made it hard for Neves' team to directly measure the artifact's age itself, leading the team to depend on matter around the bone. Further analysis in 2013 from Michel Fontugne looked at further charcoal samples and found an age of somewhere between 11,243 and 11,710 years before the study.
The museum housed a number of important works, like a fresco from the ancient city of Pompeii and a collection of over 100,000 Brazil artifacts from before Columbian times. "Luzia" is just one of many caught in the horrific blaze.