Why California's Imminent SB822 Debate Has Net Neutrality Experts Excited
It's been called the best bill at the state level.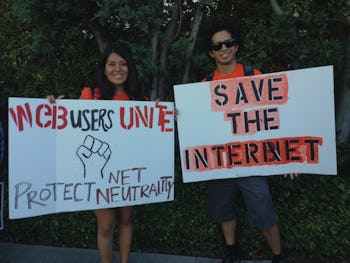 Flickr / Free Press Pics
The state of California could become a key battleground in the fight for net neutrality. On Thursday, the state's assembly is set to debate SB-822, hailed by campaigners as the best state-level bill to protect against the FCC's decision earlier this year to repeal Obama-era legislation on internet regulation.
The bill was introduced on January 3 by senators Scott Weiner and Kevin de Loin, Democratic Party members representing San Francisco and Los Angeles respectively. The counsel's digest explains the bill would "prohibit, among other things, blocking lawful content, applications, services, or nonharmful devices, impairing or degrading lawful Internet traffic on the basis of Internet content, application, or service, or use of a nonharmful device, and specified practices relating to zero-rating."
The bill passed the senate on May 25 with 23 votes in favor and 12 against. It's going to face a tough battle in its assembly third reading, as campaign group Fight for the Future counts 22 members publicly supportive versus 58 unsupportive. The third reading may arrive during the assembly's next session, which starts at 10 a.m. Pacific time on Thursday.
The action is the latest in a battle between activists that believe in an open internet and legislators seeking to grant providers more powers to shape their service. In 2015, the FCC led by Tom Wheeler classed the internet as a Title II utility similar to landline telephones and other services. Donald Trump criticized this as "another top-down power grab," and after assuming the presidency he appointed Ajit Pai as a new chairman. Pai described net neutrality as a "mistake" and advocated for light-touch regulation, ultimately leading the commission to repeal the 2015 rules in December 2017.
A Congressional Review Act aimed at reversing the decision failed. On the state level, legislators in 36 states sprung into action. Washington, New York, Georgia, Alaska and more all took some level of action to mitigate its effects, while 22 state attorney generals also sued the FCC. California is just one of many battlegrounds.
"The internet is at the heart of our 21st century democracy and economy, and we must protect the internet with strong net neutrality protections," Weiner said in a June statement. "Particularly in light of the massive consolidation between internet service providers and media companies - most recently AT&T and Time Warner - we can't just trust ISPs to allow equal internet access. We must have enforceable and comprehensive legal standards. And, given the federal government's failure to protect net neutrality, California must step up to protect our residents and businesses."
Fight for the Future has thrown its full weight behind the bill, declaring it "the best damn state-level net neutrality bill in the country":
"Our state is home to countless start-ups and technology giants alike," attorney general Xavier Becerra said in a June statement. "Net neutrality rules matter because every consumer has a right to access online content without interference or manipulation by their internet service provider. We will do what is necessary to protect that right."
Fight for the Future is now urging campaigners to get on board and phone the assembly before it's too late.
Related video: Ted Cruz Reduces the Net Neutrality Debate to One Blindingly Dumb Question