Trump Put the President of Mexico on Speakerphone and It Was "a Hot Mess"
Trump "not loving that delay."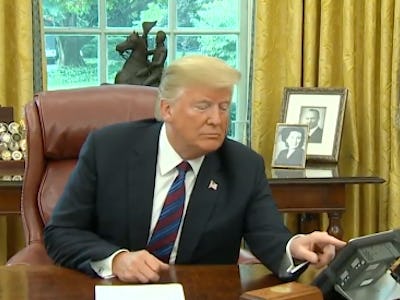 CBS News/YouTube
On Monday, President Donald Trump, the mind behind Space Force, announced that he had reached an agreement with the President of Mexico on a new trade deal, and on national television, he made the unusual move of putting Mexican President Enrique Peña Nieto on speakerphone in the Oval Office to discuss the arrangement.
The awkward nature of the high-profile moment stemmed from Trump's inability to get the president of Mexico on the phone himself. "It's a big thing. A lot of people waiting," Trump said, before saying "Hello?" in an awkward voice at the phone on his desk.
Many who observed what what history will refer to as the Speakerphone Moment took to social media to comment on the bizarre nature of the move by Trump, whose team wasn't prepared for the technological challenges of the event.
"This trade announcement is a hot mess," was one representative comment posted on Twitter. "Trump just tried to use speakerphone on live TV. It did not go well," was another.
"Trump, who cares more about showmanship and staging than almost anything else, was not loving that delay about getting the Mexican president on speakerphone," observed Reuters White House reporter David Shepardson.
Eventually an aide came over at Trump's request, with the president characteristically widening his eyes with a smirk after saying, "do you want to put that on this phone please? Hello? Be helpful."
Here's the full video:
Trump referred to the new trade deal as the United States-México trade agreement, reported The Washington Post. But Peña Nieto expressed hopes during the call that Canada will be a part of the agreement in the future. CNBC reported that Trump plans to call Canadian Prime Minister Justin Trudeau about negotiating a different deal with Canada, "or we could put it into this deal."
People called the speakerphone situation everything from "bizarre" to "a hot mess," which is probably not the reaction the White House wanted after agreeing to a pretty important trade agreement.
The Office of the U.S. Trade Representative released a statement on the agreement, stating that the U.S. and Mexico "have reached a preliminary agreement in principle…that supports North American manufacturing and mutually beneficial trade. The new agreement will create more balanced, reciprocal trade that supports high-paying jobs for Americans and grows the United States and Mexican economies."
There was also a moment when President Peña Nieto reportedly told Trump, "I send you an affectionate hug," and Trump responded, "a hug from you will be very nice."