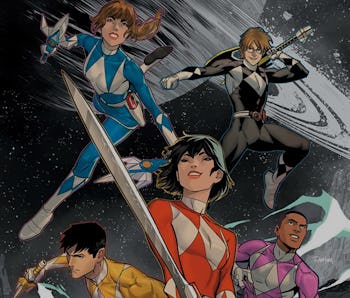 Entertainment
'Power Rangers' Is Changing Its Iconic Color Scheme in a Big Way
BOOM! Studios
One of the most iconic things about the original Mighty Morphin Power Rangers is changing after 25 years: the color scheme.
In an upcoming issue of Go Go Power Rangers, one of the two best-selling ongoing Power Rangers comic books from BOOM! Studios, all the Rangers swap colors. And Trini, the Yellow Ranger, will be taking charge as team leader, becoming the new Red Ranger.
At Power Morphicon 2018 in Anaheim, California on Sunday, the BOOM! Studios panel — moderated by Power Rangers Zeo star Nakia Burrise — featured the writers and editors of the Power Rangers comics. While the epic Shattered Grid crossover takes over Kyle Higgins' Mighty Morphin Power Rangers, the prequel series Go Go Power Rangers from Ryan Parrot is changing things up for the Angel Grove superheroes in a big way.
In the covers for issues #14, #15, and #16 of Go Go Power Rangers, all of the original five Power Rangers swap their colors and weapons (and maybe their Zords, too) in a remarkable way that actually redefines the rules of being a Power Ranger. The Pink and Yellow Rangers will be taken over by the guys, while the Red and Blue Rangers will become the girls.
It's all very exciting and reinforces the baked-in progressivism that has been associated with Power Rangers for over 20 years.
Because this can easily get complicated, here's a quick breakdown of the full switcheroo:
Trini, the original Yellow Ranger, is the new Red Ranger
Kimberly, the original Pink Ranger, is the new Blue Ranger
Zack, the original Black Ranger, is the new Pink Ranger
Jason, the original Red Ranger, is the new Yellow Ranger
Billy, the original Blue Ranger, is the new Black Ranger
Tommy is not a Power Ranger yet because Go Go is a prequel
See the triumphant cover of Go Go Power Rangers #16 below, illustrated by series cover artist Dan Mora:
Details of the storyline involving the switcheroo have yet to be fully revealed, but it all begins this October in issue #13 of Go Go Power Rangers, the first issue following the end of Shattered Grid.
Go Go Power Rangers #13, the first issue after Shattered Grid, will be released in October.