Maps of Hawaii's Hurricane Lane Show How Close It Will Come to Kilauea Volcano
"I've not seen such dramatic changes in the forecast track as I've seen with this storm."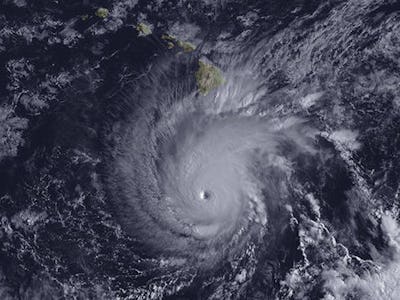 NOAA
With Hurricane Lane barreling towards Hawaii, Governor David Ige has signed an emergency proclamation allowing the state to line up resources for disaster relief if necessary. Although lava flows from the Kilauea Volcano have slowed down significantly in the last month, effects such as flooding and high surf from Hurricane Lane could exacerbate the laze plumes and sulfur dioxide emissions caused by Kilauea's still-active fissure.
According to the latest US Geological Survey (USGS) statement published on Wednesday, there are still ocean entries oozing lava on the volcano's lower East Rift Zone. Hurricane Lane, which has winds of up to 155 miles an hour, is currently forecast to pass to the west of the island of Hawaii, but the Category 4 hurricane's erratic movement has made it difficult for scientists to predict which islands will be most affected by the storm.
"[Hurricane Lane] is not a well-behaved hurricane," Ige said after signing the emergency proclamation. "I've not seen such dramatic changes in the forecast track as I've seen with this storm. I urge our residents and visitors to take this threat seriously and prepare for a significant impact." Lane is already considered the most powerful hurricane to threaten Hawaii in more than two decades.
Maps provided by NOAA show the Category 4 hurricane building around Hawaii, where emergency hurricane shelters are being prepared on Oahu, Maui, Molokai, and Lanai islands. USGS says that Lane's current trajectory may cause minor rockfall at Kilauea's summit and an increase of steaming from the active fissure. Whiteout conditions could also occur on the new lava field, the agency warned, due to the interaction of heavy rain and still-hot lava flows.
Even if Lane somehow manages to bypass Hawaii's Big Island, the hurricane is already compromising some of the relief efforts still ongoing since Kilauea destroyed hundreds of buildings. FEMA published a statement that the agency's Kilauea Disaster Recovery Center will close on Thursday due to the hurricane threat.
While the volcano is no longer launching volcanic tornadoes, lava balls or green gems into the sky, the arrival of Hawaii's most powerful hurricane in two decades may complicate relief efforts for an already exhausted team of first responders. While ground crews will not be working in the field near Kilauea, the Hawaiian Volcano Observatory (HVO) says it will continue to monitor the region for any sign of volcanic reactivation during Hurricane Lane's approach and will bring in ground crews should any changes in the volcano develop.