Get Excited: Inverse Has T-Shirts Now
Our cool new tees are, ahem, quite supreme.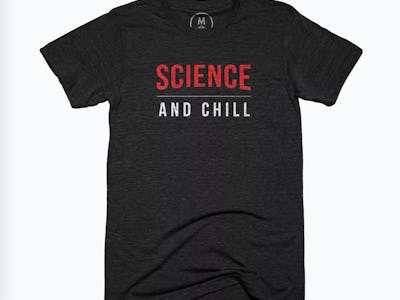 cotton bureau
We here at Inverse take great pride in our approach to covering the most interesting, most moving, and most bizarre things going in the world today. We wanted to show it off a bit more, so we made some t-shirts to wear. Now, you can wear them too.
We're excited to have partnered with Cotton Bureau to bring to the masses our first two tees, available right now in all manner of sizes and varieties. Here's what we got:
Science and Chill Shirt - Cotton Bureau
A play on the old "Netflix and Chill" line, only for people who are bored with rewatching season 3 of The Office over and over again and are looking for something a little more cerebral.
Tired: Pie in the sky.
Wired: Steak in the stratosphere.
Couldn't decide on which pun to use, please email me personally to let me know which one's your favorite.
In addition to being soft, lightweight, easily washable, well-fitting, 100 percent guaranteed to clear your skin et cetera, you can mildly customize the color and materials used for each shirt. We do, of course, have all the sizes in both men's and women's. Go forth and wear your love of Inverse proudly on your sleeve. Or… chest, I guess? This metaphor got away from me a bit.