Kurt Russell Stars in Cryptocurrency Thriller 'Crypto' — Exclusive Preview
"Bledel has won Emmys. Kurt Russell is a legend. I think it's just a really strong cast."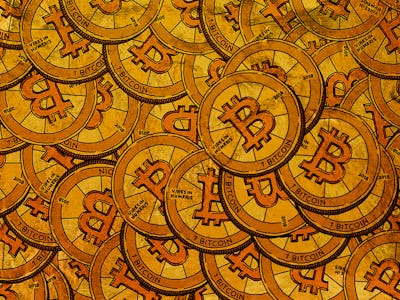 Cryptocurrency values may have peaked in December 2017, but the cryptocurrency movie has nowhere to go but up — at least, that's what the producers of Crypto are hoping. The upcoming film, currently in post-production, tells a classic crime thriller set against the backdrop of shady cryptocurrency dealings (think "Michael Clayton meets Sicario"). It also features an all-star cast, including Kurt Russell (Guardians of the Galaxy Vol. 2, Escape From New York), Alexis Bledel (The Handmaid's Tale), and Beau Knapp (The Nice Guys).
Inverse spoke to the film's producers, Jordan Yale Levine and Jordan Beckerman of Yale Productions, about the decision to make a cryptocurrency thriller, how they kept the film as accurate as possible, and why they prefer to film in upstate New York. We also got an exclusive first look at Kurt Russell in Crypto (he plays a potato farmer). Check out the image below and interview below.
Neither of Cryptos two producers considers themselves to be experts in actual real-life cryptocurrency.
"Both of us have dabbled," says Yale Levine. "I don't know if either of us would consider ourselves expert. It was really our writers who fleshed out the topic and dove into the research. They were the ones who really became experts to make sure the film was authentic."
Even so, when it comes to the specifics, Crypto may not be as satisfying for die-hard cryptocurrency enthusiasts. The film doesn't even focus on a specific currency.
"It's more broad than that," says Beckerman. "It doesn't particularly focus on any particular coin. However, he notes that the overall message of the movie is positive, even if does focus on crime, corruption, and cryptocurrency.
Perhaps unsurprisingly, the producers also hope that cryptocurrency is here to stay.
"We hope it lasts for a long time," says Yale Levine. "That's one of the reasons why we wanted to do the film. We're not into fads. We hope it stays around for a long time."
When it comes to Crypto's impressive cast, which also includes Luke Hemsworth (Westworld) and Vincent Kartheiser (Mad Men), Yale Levine says the entire thing just came together "one domino after the other."
Beau Napp was the first to sign on, thanks to a connection with one of the writers on Crypto. Next was Kurt Russell, who the producer acknowledges they were "very fortunate to land." As for Bledel, the Gilmore Girls actress is represented by the same agency as her two male co-stars, so the entire thing just fell into place.
"Bledel has won emmys. Kurt Russell is a legend. I think it's just a really strong cast that came on board," says Beckerman.
Crypto takes places primarily in upstate NY, where Kurt Russell's character runs a struggling potato farm, but for Yale Levine and Beckerman, the area has become like a second home — and not just because of the tax credits.
"Crypto was filmed 95 percent upstate," Yale Levine says, "but we did shoot a couple of days in NYC. When we're shooting in the city you can see the skyline, but people aren't as familiar with upstate, which is beautiful and aesthetically gorgeous. We have a potato farm, which is where Kurt Russell works. You would never imagine this is upstate NY."
The producer duo has also used the same region as a stand-in for various other settings, including in 2016's King Cobra starring James Franco and in the upcoming Green Dolphin starring Sean William Scott. In both cases, the location offers easy access to the nearby city, along with a scenic backdrop for the story being told.
When it comes to Crypto it sounds like that hasn't changed, though audiences will have to decide for themselves when the movie comes out in 2019.
"The footage so far looks fantastic so far," Yale Levine says.