Nintendo Reveals When Switch Online Will Launch Complete With Cloud Saves
You'll need this to protect your data.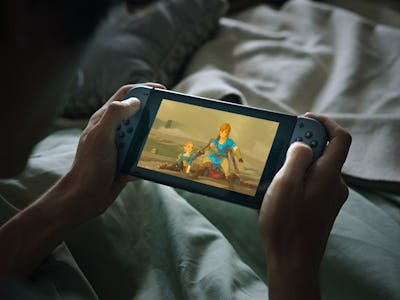 Nintendo
The Nintendo Switch's online service is set to launch in the second half of September, nearly 18 months after the hybrid console first hit shelves. The company announced the launch window on Friday with a reminder that the service will solve a number of issues for players, like backups of save data into the cloud.
Nintendo's service will offer many of the same features found on the PlayStation Network and Xbox Live. It will offer online play for compatible games like Splatoon 2, Mario Kart 8 Deluxe, Mario Tennis Aces and more. It will also support saving online data to the cloud, details of which will become available before the service launches. Nintendo will also offer a selection of retro NES games as part of the subscription, launching with 20 online play-supporting games like Soccer, Tennis and Mario Bros. The company will also offer a smartphone app that adds extras to compatible games: Splatoon 2, for example, offers a look at battle statistics and other data.
See more: Nintendo's Still Forging Its Own Path Online
Cloud backup is a key point of contention for Switch players. The console locks save games to the hardware memory, and provides no methods for transferring data. That means when the hardware fails, there's a very high chance you'll lose your hard-earned progress fighting Ganon in The Legend of Zelda: Breath of the Wild.
Nintendo is pricing individual membership at $3.99 for one month, $7.99 for three months, and $19.99 for 12 months. A family membership provides access for up to eight people in a subscription costing $34.99 for 12 months. That's surprisingly cheap compared to PlayStation Plus, which costs $9.99 for one month, $24.99 for three months and $59.99 for 12 months, although Sony's service provides online play for all accounts on a single console and offers a number of PS4 games to download for free each month.
Nintendo's offering is expected to launch soon, but it may not be the end of the backup story. A social media campaign called SaveTheSaves is pressuring Nintendo to offer an alternative backup through USB or SD card, as the Switch is virtually the only console to offer no means of protecting data for free.