Who Will Survive Terrence Malick's 'Knight Of Cups'?
Who will survive... and what will be left of them?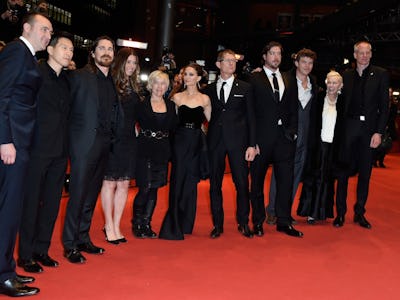 Terrence Malick's movie career spans a massive forty years. During that period, he's directed eight films, a remarkably modest amount for such a celebrated filmmaker. And Malick truly is a maker of films. Not just a gun-for-hire. Like all true auteurs, he adheres strictly to his own vision, an experience that comes to him once shooting has wrapped. The edit suite is where he 'finds the movie,' literally and figuratively. Doesn't matter what was shot, how long you were on set, or how much you were paid; just because you filmed scenes doesn't mean you're in the movie.
And also like a true auteur, he has a habit of pissing off actors. Rachel Weisz, Jessica Chastain, Michael Sheen, Amanda Peet and Barry Pepper were completely cut from To The Wonder. The Thin Red Line didn't contain one scene featuring Mickey Rourke or Bill Pullman who each participated in the gruelling shoot. With that in mind, Malick's next star-studded offering Knight of Cups has clearly got too many people in it. Let's take a look at who might still get the chop.
Christian Bale
Chance of getting axed: 1/10
Plays a washed-up Hollywood has-bee… yeah, that old chestnut. Goes by the name of Rick, and seeing as the only continuous element in the trailer is his presence - albeit spread over a variety of seemingly disconnected scenes - we'd hazard a guess and say that the former gravelly voiced one is safe.
Natalie Portman
Chance of getting axed: 2/10
Most of the pre-release chatter about the movie references Portman, who plays Elizabeth. Visible in the first set image to hit the web, and several vignettes glimpsed in the trailer, she also hit the red carpet earlier in the year in support of the movie.
Cate Blanchett
Chance of getting axed: 3/10
The Oscar-winner plays Nancy, Rick's ex-wife. Her fate in the movie could be linked directly to that prefix, as someone who features in a flashback or a moment early in the movie. However, she crops up in the trailer from December 2014 and receives top billing along with Bale and Portman.
Jason Clarke
Chance of getting axed: 7/10
Is it fair to assume that because of Jason Clarke's appearance in Terminator Genisys he should be snuffed out of Malick's film? No, but it probably won't do him any favors. His character name hasn't been made public, leading us to believe it's either a tiny role - briefly alluded to in the trailer - or he's been excised.
Joe Manganiello
Chance of getting axed: 8/10
Manganiello dips in and out of tons of varied projects, the first two Spider-Man movies include him as Flash Thompson, and after a stint on True Blood he shook his thang in both Magic Mike movies. He's not an obvious choice for Malick's brand of unique filmmaking… and that might be why he's a perfect choice.
Ryan O'Neal
Chance of getting axed: 6/10
Acting veteran whose best work was arguably in the 1970s. His most recent high-profile appearances were on the small screen (Bones, Grey's Anatomy) — he's due a comeback, and this film could benefit from his industry pedigree.
Joel Kinnaman
Chance of getting axed: 6/10
Kinnaman's an interesting choice for Malick, who earned his Hollywood stripes playing Alex Murphy in the questionable Robocop reboot. He cut his teeth on The Killing - so he's no stranger to weirdness.
Imogen Poots
Chance of getting axed: 4/10
The enigmatic plot synopsis for the film, that takes a leaf out of Hank Moody's book, makes it clear that Rick has a fondness for the fairer sex. His path to finding meaning is littered with impossibly gorgeous women, one of whom is Poots' Della. Her smoky-eyed youngster giggles her way through the trailer; could be she's made the cut.
Teresa Palmer
Chance of getting axed: 5/10
Like Poots, Aussie export Teresa Palmer looks to be the subject of one of Rick's potential dalliances. She plays Karen. No clues have been revealed as to what she might get up to, but her face flashes on the screen briefly in the teaser.
Wes Bentley
Chance of getting axed: 4/10
Plays someone named Barry. There's not a whiff of his presence in pre-marketing materials, and he's been off the radar for some time since he videoed that beauteous plastic bag swirling about in American Beauty. Still, he does have a name that bodes well, right?
Freida Pinto
Chance of getting axed: 5/10
The sole scrap of info on Pinto is that she plays someone called Helen. Since her big debut in Slumdog Millionaire Pinto's dabbled in a ton of big blockbusters and the occasional indie talkie. It's 50/50 with this one.
Ben Kingsley
** Chance of getting axed: 3/10
Receiving the prestigious 'Sir' title in 2002 gives Kingsley an edge over the rest of the cast. He's literally a knight. Which is just a coincidence, really. His performance is listed as a voiceover, and bearing in mind the weighty cache that comes from his involvement, Malick might work to ensure his safety.
Nick Offerman
Chance of getting axed: 6/10
Another actor without a character name, Offerman's a dynamic actor mainly credited with deadpan comedies. He'd be perfect as a bitter Hollywood hanger-on, or even an agent, if given the opportunity. All depends on the size of his role.
Kevin Corrigan
Chance of getting axed: 7/10
A character thesp who's dipped into every genre imaginable, Corrigan's one of those actors whose name you probably don't know, but a face you most certainly will. He plays a character called Gus, and he's absent from marketing spiel. It doesn't bode well.
Michael Wincott
Chance of getting axed: 6/10
Similar to Corrigan, Wincott's past performances are memorable — but his name, not so much. He's got a weighty gravitas that managed to make parts of Alien Resurrection bearable. Plus, he's gifted with a character name: Herb.
Isabel Lucas
Chance of getting axed: 7/10
There's the definite possibility that Lucas is playing herself in what's likely a small, blink-and-you'll-miss-it role. Because she's credited with the name 'Isabel.' Not exactly a vital component to the plot…
Antonio Banderas
Chance of getting axed: 8/10
He's listed as Tonio on the film's IMDb entry. With the hedonism of Hollywood a central part of the story, it could be he shot a cameo as a fictionalised version of himself. In which case, he's an easy target for removal.
Armin Mueller-Stahl
Chance of getting axed: 3/10
Plays Father Zeitlinger. There's no way he's getting the chop. Mueller-Stahl is armed with 138 screen credits, most of which are brilliant supporting roles. He's got the heft to make the most of uninspired material.