Is #Bookstagram Changing How You Read? How You Judge Books by Their Cover
Over 22 million posts have been tagged #bookstagram.
by Veronica Walsingham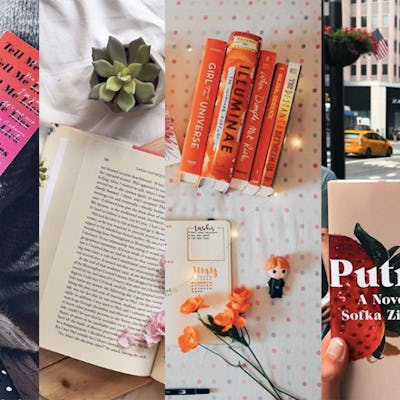 Instagram
There's a subset of Instagram influencers — aptly dubbed "bookstagrammers" — who post photographs in which reading looks like the type of lavish pastime GOOP would recommend alongside vagina steaming. The books are often pictured on crisp, white linens, entwined with twinkly lights, and accompanied by some form of caffeine, and maybe a pastry. Maybe there's a candle burning or a dried flower being used as a bookmark. It's an aesthetic.
If you spend enough time scrolling through these idyllic photographs, it becomes increasingly obvious that these accounts are carefully curated (because really, no one's linens are that white). Perhaps the most important part of coordinating these images is selecting the book cover, which provides the colorful anchor around which the other elements exist. And that's what these book influencers are sharing: the book cover, which we've been told not to — oh, you know the phrase.
What Makes a Good #Bookstagram?
Jill runs Booknerd_Reads, an account with nearly 80,000 followers, featuring books among fairy lights and moody shadows. She explained, "Essentially, covers are as vital as content when it comes to bookstagrammers." This is not to say that the community doesn't have great affection for the literature they read, but they are well aware that gaining, entertaining, and maintaining followers is dependent on beautiful photographs, thus beautiful book covers.
So, what book covers qualify as "beautiful"? The three bookstagrammers spoken to for this piece agreed that less is more. Of her personal preferences, Jill stated, "I really love simple covers. Whether it's minimalist covers with just the title in calligraphy, or…symbols of the story or just decorated titles." Jill also noted that a beautifully designed title is preferable to real life people on the cover.
This anti-social sentiment was echoed by Bex, who runs OutOfTheBex — an account with over 30,000 followers that features bright photographs of books, tea, and donuts. Bex agreed that covers without faces are preferred, as this "leave[s] characters up to our own imaginations." Bex continued, "It's very rare for me to like a book with a portrait on the cover. Instead, I prefer more modern fonts, crisp lines, and colors."
While Jill and Bex have specific aesthetics and themes, their general preferences for covers remain the same. This seems to be the case across the bookstagram community, as title-focused, mostly faceless covers receive more coverage. In the last 180 posts from the trio, only 15 (8 percent) featured a book with a person's face on the cover. The other 92 percent displayed only distorted faces (like the singular eye of Social Creature), inanimate objects, or a title alone. Specific covers preferred by these book influencers range from Sweetbitter's millennial pink and broken wine glass (the original cover), The Sun Is Also a Star's colorful and geometric design, and My Name is Venus Black's simple and title-driven cover. So, think the opposite of those romance novels one sees in the grocery checkout lane.
Tricks of the Trade
Bookstagrammers clearly have deep affection for literature. Yet in the battle between the book cover and the words inside the cover, the book cover wins. Elena — who runs The Bibliotheque, an account of sheets, books, and flowers with over 50,000 followers — confessed to buying a book simply because it fit her grid's aesthetic. "And I'll be honest, after posting about it I never picked it up and read it," she stated before explaining the guilt she felt for essentially using a book for its beautiful cover. Elena isn't alone in prioritizing the cover. Bex confessed to declining to review books unfitting of her account's aesthetic. Jill added that she reads many e-books on her iPad, but iPads aren't as photogenic.
According to Bex, influencers employ some key tricks to avoid an ugly cover on a beautiful book they want to feature. Bex explained that she'll open up the book to its title page when the cover isn't something she necessarily wants to add to her grid. "To be frank," she said, "a post won't get as much engagement if the cover isn't, in itself, engaging. In those cases I'm preventing the book cover from getting in it's own way." However, Bex also believes there's been an improvement in book covers since the growing popularity of the bookstagram community. "I think publishers are paying extra attention to what first impression a book might be able to make through a great cover," she said.
The Industry
But does the book industry really care about these Instagram influencers? Yes and no. The industry seems aware of bookstagrammers' platforms and reach, as they've hosted panels on the topic, but there doesn't seem to be a consensus as to whether they've purposely adjusted their book covers to appease the community's sparse aesthetic.
Kate Gardiner founded Grey Horse, a creative communications agency guiding brand development and audience engagements, with clients such as Gretchen Carlson (author of the New York Times bestseller Be Fierce) and Jessica Bennett (author of the Wall Street Journal bestseller Feminist Fight Club). Gardiner noted that word-based covers are most popular at the moment, which is in line with what bookstagrammers prefer. Gardiner's spot-on knowledge of the trend is a sign the industry is paying attention to these influencers, but paying attention isn't the same as changing the industry.
When asked whether bookstagram preferences have any effect on book covers, Gardiner noted, "It depends on the publisher." She explained that major publishing houses have other things to consider first, like branding and budget, among other business and legal issues. Gardiner continued, "However, for indie publishers and those focused on selling e-books, title choice and image are built on both tradition, especially in romance, sci-fi and other series-oriented titles, and what works best on bookstagram for popularity."
Smaller publishers and self-publishing authors without the resources of the big houses are taking the Instagram community into consideration. Though, one reason bigger houses may not devote their time and energy into appealing to the bookstagram community is that it's an unreliable marketing resource. Gardiner noted that Instagram engagement can yield "erratic results." However, Gardiner was more confident in building an author's readership through personalized social media engagement: "Whether or not this consideration converts to short-term or immediate sales seems to be erratic; it does lead to longer-term engagement with readers on social media platforms, and over time an increased perception of an intimate relationship between fans and their preferred authors."
Not all believe personalized author engagement is necessary for success. Gillian Flynn, for example, is a New York Times bestselling author, who has had all three of her novels translated into screen adaptations. Yet, she's virtually absent from the social media game. In an interview with HuffPost, Stephanie Rostan, who is Flynn's literary agent, was asked about Flynn's social media absence and its necessity for book sale success. Rostan answered, "It is not always the author's investment. There has certainly been a lot of social media chatter about Gillian's books, although it's true that for the most part she was not out there participating in or generating the conversation."
Andrea Dunlop, a social media consultant and author of She Regrets Nothing, noted that Flynn is an "outlier." Dunlop continued, "For most of us marketing is a long game, one that entails picking up and retaining more and more readers as we go, and social media can be an extremely helpful tool in this respect." Dunlop also pointed out that Instagram is such a powerful social media platform for those creating art and culture content because, unlike Twitter and Facebook, it hasn't been "overwhelmed by breaking news and politics."
Dunlop notes that She Regrets Nothing has received "a great response on Instagram in particular" and that the bookstagram community has been "instrumental" in helping her work find an audience. Of course, the actual content of She Regrets Nothing has been praised, even named a "Must-Read" by Town & Country and InStyle, so this is not to say that the book is anything less than a great read. However, the Instagram response may be due, in part, to the cover. It's millennial pink, features neither faces nor people, and is driven by the font of the title. In short, it's a cover worthy of bookstagram post.
So, there's no real consensus in the book industry on the connection between social media and book sales, perhaps because there may be no specific metric for the number of people that saw a gorgeous bookstagram post that converted into book buyers. Dunlop explained that there is a correlation between visibility and book sales, but "it's hard to tack it to a specific metric, and it's always hard to say whether a book's social media coverage is driving sales or the other way around, either way, if you're seeing a book everywhere on social media, it's a good sign."
While there's uncertainty about bookstagram's and social media's exact influence on book sales, publishing houses are still putting dollars towards community through sponsored posts. The three bookstagrammers spoken to for this piece confirmed they had been contacted by publishing houses to feature books or do book giveaways, and in some cases the influencers have been compensated for their promotions. Publishers don't have to adjust their book covers to match bookstagram's preferences — they simply pay for exposure instead.
Designing covers that appeal to this specific community may not be much different from designing covers for a wide audience. As Bex put it, "It's just like anything, you want me to be sure your book is making a great first impression so that readers are more likely to choose it off of bookstore shelves — or in this case, off a bookstagrammer's feed."
Not much has changed for the book industry: We're all still judging books by their covers, only now those covers are filtered. And probably on some beautiful sheets.