'Fallout 76' Is Coming to QuakeCon, and Vault Boys Are Coming to You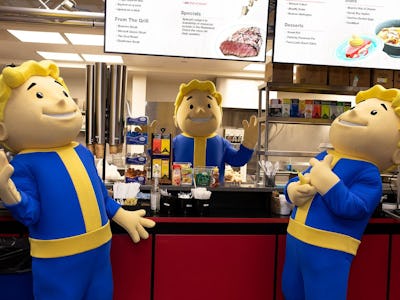 Bethesda
If you're still hungry for more news about Fallout 76, then you'll soon get your chance at QuakeCon 2018. Bethesda is hosting a panel that will reveal more details about the game and field questions from guests, but it looks like the company has already got a head start.
On July 30, the official Fallout account on Twitter put out an open call for questions. If there's something you're curious about that hasn't been addressed in previous coverage, then this is your time, especially since the open beta is still a few months away.
QuakeCon is taking place from August 9 to 12 at the Gaylord Texan in Grapevine, Texas. The Fallout 76 panel will start on August 11 (that's Saturday) at 12 p.m. Eastern. It'll open with a roundtable of Bethesda Game Studio members (including Todd Howard) who will provide a deeper look into the game's character and perk systems. Afterward, there will be the Q&A session where developers answer questions from fans.
If you can't make it in person, don't worry. Bethesda will be streaming it on its Mixer and Twitch channels.
As a lead-up to the event, Bethesda also said to expect Vault Boys walking around in "a city near you".
The menu above the Vault Boy behind the counter features some iconic Fallout dishes. Could this be a tease for a Fallout-themed pop-up restaurant to promote QuakeCon or is it just a fun photo? Alas, there's no word on whether you can actually order yourself a Brahmin Steak with a side of BlamCo Mac & Cheese.
If you spot a group of Vault Boys in the wild, we'd love to hear from you. Let's just hope they're nicer than Gary.
Fallout 76 will launch on November 14, 2018.