What to Know About Trump's Reported Pick for Chief Science and Tech Adviser
This will clearly have an effect on the space force.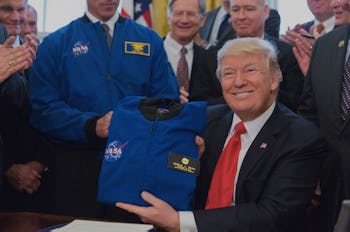 President Trump's top science and technology position has remained open for the last 19 months, but according to a report from the Washington Post, it might be filled very soon.
Reportedly, Trump is set to tap Kelvin Droegemeier, an extreme weather meteorologist from the University of Oklahoma, as chief of his Office of Science and Technology Policy, which issues guidance on everything from AI to climate change.
Here's what we know so far about the man that could drive science and tech in the US.
He's A Meteorologist With Serious Credentials
Despite Trump's proclivity for choosing secretaries and staff lacking traditional credentials, Droegemeier appears to defy the pattern, having served as the Vice President for Research and Professor of Meteorology at the University of Oklahoma.
Droegemeier also has government experience, currently serving as Oklahoma's Secretary of Science and Technology, and previously as Vice Chairman of the National Science Board of the National Science Foundation under President George W. Bush.
Droegemeier Has Repeatedly Argued In Favor of Sustained Science Research Funding
Droegemeier has repeatedly stuck his neck out publicly for sustained science research dollars.
In June 2017, Droegemeier penned an op-ed in the Des Moines Register calling for bipartisan support for research funding the 2018 budget.
In October 2017, Droegemeier testified in front of the Labor, Health and Human Services committee of the US House of Representatives to argue against a funding cap on facilities and administrative costs.
The Trump administration has repeatedly proposed cuts to scientific research funding.
Drogemeier Has Previously Supported Trump Appointments and Republicans
Drogemeier has supported the Trump administration in the recent past. In September 2017, Drogemeier came to the defense of Representative Jim Bridenstine from Oklahoma, who was nominated to run NASA. He was eventually passed up due to previous statements on climate change to the House, where he said, "Mr. Speaker, global temperatures stopped rising 10 years ago. Global temperature changes, when they exist, correlate with sun output and ocean cycles."
Drogemeier defended Bridenstine, who he worked with crafting a weather-research bill, saying "He probably regrets the way he said it… He'd probably say it differently today." The statement shows a willingness to align with the Trump administration, while also illustrating a belief in publicly supporting the idea that the climate is changing.
He's Got Bipartisan Support
In a Trump administration rarity, Droegemeier has bipartisan support.
Speaking to Science Magazine, John Holdren, who was a science adviser under President Obama, called Droegemeier "a very good pick" who will "be energetic in defending the R&D budget and climate change research in particular."
Maria Zuber, VP of research at MIT, told the magazine that he will defend climate science, despite having "solid conservative credentials."
While Droegemeier isn't officially nominated, or confirmed yet, he may make history as Trump's least contentious nomination yet. Luckily, all of this bodes well for the acceleration of Trump's space force.