Elon Musk Announces "Party and Camper Mode" Is Coming to the Tesla Model 3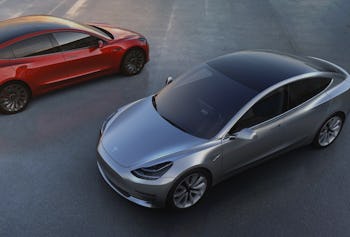 Tesla
A side perk to doing away with a conventional gasoline powered engine is that the Tesla Model 3 boasts storage capacity that rivals much larger vehicles. After one customer took to Twitter to demonstrate just how much camping equipment fits into his Model 3, Musk announced that a new software update to enable something called "party & camper mode" would be rolling out "soon."
"Not having a big gas guzzler engine in front means there's room for trunks in front & back," Musk's first Tweet reads. "We're adding a 'party & camper mod' soon to S/3/X, so your car can maintain air flow, temp, selective lights, music & power devices for 48 hours or more while parked. Big batteries rock …"
The announcement seemed inspired by a fan image shared by a Tesla Model 3 customer with the handle Tim Alguire, which detailed everything his Model 3 was able to store on a luggage-intensive camping trip. In addition to five people, the Model 3's two trunks were also able to store a pretty elaborate camping set-up, complete with air mattresses, a seven-person tent, a screen, tables, and other gear.
Tesla Party & Camper Mode Will Be Added "Soon"
It's easy to see why Tesla and Musk seized on the Tweet, which paints an impressive picture of someone who's clearly making the most of their Model 3. Announcing new features in the thread also ensures it will be a lot more widely shared (and written about.)
We're also getting some new features to discuss in tandem with the signature car that's almost certain to be a main topic of conversation on tomorrow's much discussed Tesla Q2 earnings call, scheduled for Wednesday.
After all, this isn't just any other luxury car, it's a pretty luxurious looking mass-market car that's key to Tesla's greater ambition to prove it's capable of ensuring a renewable energy future and turning a profit. The Model 3 has gotten pretty stellar reviews, including a rave from the Wall Street Journal auto critic Dan Neil.
At the same time, it has also experienced some production issues and delays, with some analysts questioning whether the pace Tesla maintained to hit its recent 5,000 car per week milestone is actually sustainable in the long term. Some fun new features are a pretty good way to give Tesla fans and critics something else to talk about.