How to Buy the $1,500 Tesla Surfboard, Elon Musk's Cheapest Vehicle
Tesla is riding a new wave.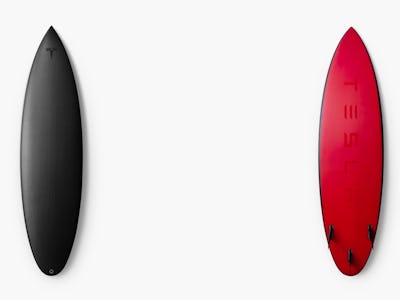 Tesla
Tesla unveiled a new vehicle over the weekend, and it's already making waves.
The Surfboard is a limited-edition, company-branded board that uses the same matte and gloss finishes as found on its electric cars. Unlike the TModel 3, though, the Surfboard ditches the battery packs in favor of tidal power acceleration — although it still produces zero emissions.
The board came as something of a surprise to online store browsers, but it's not entirely unexpected. Tesla sells a number of branded products including zip hoodies, caps, and even external smartphone batteries that bear a resemblance to the company's superchargers. A $400 leather jacket that debuted in February 2016 used full-grain sheep leather to display the company logo on the chest.
The $1,500 surfboard, however, places Tesla in new waters.
Tesla Surfboard: What to Know
The board was developed in collaboration with Tesla's design studio in Hawthorne, California. The team worked with Lost Surfboards and Matt "Mayhem" Biolos, a surfboard shaper that's worked with World Surf League Championship athletes. It uses Lost's signature "black dart" carbon fiber that was "inspired by the interior" in Tesla's cars, plus a 1.5-pound stringer-less EPS Core. A bio-based epoxy resin wraps around, with a hybrid carbon and "S-Glass" fiber custom woven. On the base, there's two layers of four-ounce cloth for added strength.
The Model S, X and 3 can all "comfortably" fit the surfboard on the inside or outside. The "El Patron" design measures six feet eight inches long, 20.5 inches across and 2.88 inches deep. In total, the board measures 42.5 cubic liters in volume, and no fins are included.
The product may have debuted over the weekend, but one report suggests it's been in the works for a while. Alexander Haro, senior editor for surfing website The Intertia, claims he encountered a surfboard in the range while he was out surfing "a long time ago."
See also: Why Tesla Isn't Really a Car Company at All, And Why That Means It Will Win
How to Buy Tesla Surfboard
Unfortunately, the surfboard shipped in extremely limited quantities. With only 200 produced, and production and delivery taking between two and 10 weeks, the boards sold out in just one day.
Help is at hand, though. Listings have already hit eBay, where buyers are posting screenshots of their order promising a delivery to the successful bidder as soon as it arrived. However, as with anything eBay, buyers will need to exercise caution before placing a bid.
It won't come cheap, either — although the original board cost $1,500, auctions have already hit $3,000, with some buy-it-now listings asking for nearly $5,000.