A Massive Blockchain Powering Wind Farm Is Taking Flight in Morocco
Soluna thinks the answer to Bitcoin's energy consumption is blowing in the wind.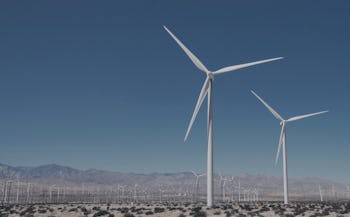 Soluna
Morocco is about to play host to one of the biggest blockchain-powering energy operations in the world. Soluna unveiled plans on Friday to develop a wind farm power plant in the country dedicated to powering blockchain technologies with its computer facilities. The firm tells Inverse it's the world's first vertically-integrated blockchain cloud computing company that owns and controls its own renewable energy sources, and could help usher in a new more sustainable era in crypto mining.
"Some have accused crypto miners of being extractive," John Belizaire, CEO of Soluna, tells Inverse. "In contrast, one of our core values is to invest in local economies. By building our own power and operating data centers, we bring investment dollars, create jobs, and (notably) don't take away from the existing stock of energy to the local region."
Soluna has chosen a Class I wind site, meaning wind speeds reach higher than 22 mph, that covers 37,000 acres in southern Morocco. The goal is to produce a potential 900 megawatts. It's also designed as an off-grid operation, but transmission lines are expected to reach the site by mid-2019. The company is backed by Dwight L. Bush, the United States' former ambassador to Morocco.
The project sounds similar to other cryptocurrency mining centers, like Iceland's Moonlite Project that has a capacity of around 15 megawatts. Soluna claims the fact that it owns and controls its own power in each site gives it an advantage, allowing it to lock in energy prices that comprise around 40 percent of crypto mining operational costs. The company also claims its off-grid independence means governments will be less likely to crack down, as has been the case with some mining operations in China, as it's not taking local power and driving up prices.
Critics have begun worrying whether cryptocurrency uses too much energy. A Digiconomist analysis shows Bitcoin mining consumes 71 terawatt-hours of electricity per year. Alex de Vries, author of an article that shocked the community in December 2017, told Inverse many people are shocked when he describes the energy consumption.
"We believe that the current growth in electricity is only in response to this new and still nascent system - which is only just now coming into existence," Belizaire says. "Our viewpoint is that larger infrastructure players will grow over time to become the backbone of the blockchain economy. These infrastructure players will then find they have an incentive to become proselytizers of the blockchain – pushing it out to many new parts of our economy."
With the king of Morocco announcing in November 2016 plans to create over 6,000 megawatts of clean energy projects by 2020, projects like Soluna could spark the country's wider transition to greener sources.