The Movie Transformation: 'Southpaw' Jake Gyllenhaal vs. 'Trainwreck' Tilda Swinton
The battles of the sexes makes its way to movie makeovers.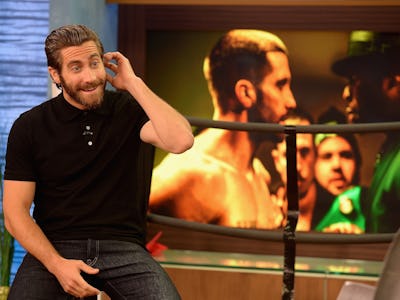 Jake Gyllenhaal's latest movie Southpaw opens in theaters Friday. If you've seen one of the trailers or glimpsed one of the posters, then you've probably noticed his hulking physique. He's totally jacked. His physical overhaul doesn't come as a huge surprise considering he plays a light-heavyweight boxer. Months spent prepping in the gym are a necessity for actors whose roles demand rippling bodies. Christian Bale has made a career out of it.
For actresses, the requirements for transformation typically don't involve bench pressing 500 pounds. Sure, Gal Gadot hit the gym to beef up for Wonder Woman, but to hardcore DC fans she could lift 'til the cows came home and the extra workout wouldn't increase her chest size to accurately represent the character. For women to undergo the same experience, they either ugly down or pretty up.
The latter option is the topic of another recent performance. Tilda Swinton, whose entire resume is filled with roles showcasing her malleable talent, received similar coverage to Gyllenhaal this week in EW concerning her appearance in Trainwreck. In the film, she plays Amy Schumer's boss: a ruthless, egotistical magazine editor. Unlike her previous outings, she didn't get kitted out with bucked teeth, or a prosthetic liver spot-ridden mask, for the part.
She had her hair and make up done.
In a thoroughly exciting expose, her transformation is deconstructed thanks by the film's stylists. The team of aesthetic artists reveal the type of eyeshadow she wore, the fake tan they applied, and how they selected the wig to best complete the makeover. In all cases the actors involved did whatever it takes to nail the character, and the end result affirms a sad truth about Hollywood: Gyllenhaal is a ripped adonis, and Swinton has great hair. Is this another example of the industry's history of inequality toward women - be it actresses receiving less pay or the variety of roles on offer - or is it simply the way the cookie crumbles?