The First 'Smash Bros. Ultimate' GameCube Controller Comes With a Big Catch
It's still pretty slick though.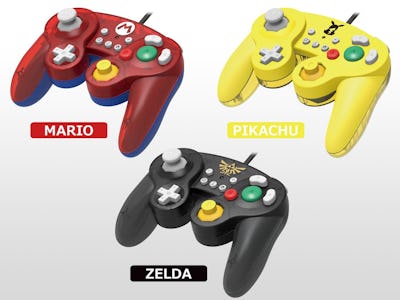 Hori
Is it really Super Smash Bros. if you're not playing with a GameCube controller? This perfectly sculpted hunk of plastic has been the go-to tool for serious players ever since it debuted in 2011, and that won't change when Smash Bros. Ultimate launches later this year. However, an early look at the first quasi-official Super Smash Bros. Ultimate GameCube controller reveals a pretty big drawback.
Created by Hori, Nintendo's official third-party accessory maker for the Switch, these GameCube-style controllers have a lot going for them. Launching in October for an "affordable price," the new accessories come in three different color variants designed to celebrate three of Nintendo's biggest franchises: Mario, Pokémon, and Zelda.
Hori also added the new ZL button introduced for the Switch Joy-Con and offers the option to re-assign all four trigger buttons however you want. You can also set individual buttons to rapid fire at a rate of 5, 10, or 20 times per second when you hold them down. In short, this isn't some knockoff controller for you to pawn off on your younger sibling.
Unfortunately, there's also a catch. These are wired controllers. Worse, they need to plug into the Switch dock to work. That means you can't use one of these GameCube controllers to play Super Smash Bros. Ultimate on the go.
To be fair, that's probably fine for most multiplayer gaming sessions spent huddled around a big TV, but if you were hoping to meet up with your friends out in public for a few rounds of Super Smash Bros. Ultimate with a GameCube controller, well, you're out of luck.
Nintendo's also confirmed that it plans to offer its own GameCube controller solution for Super Smash Bros. Ultimate. Last year, the company also updated the Switch to work with the GameCube adapter originally released for the Wii U, but that also requires the dock to work. So barring some surprise announcement, it looks like you'll be tethered to your TV one way or another.
In that case, those slick new Hori GameCube controllers are looking pretty good — assuming you can get your hands on one outside of Japan.
Super Smash Bros. Ultimate launches December 7 on Nintendo Switch.