With the Price Above $8K, How Long Can Bitcoin's Summer Rally Continue?
The bitcoin price jump has been tearing through the summer.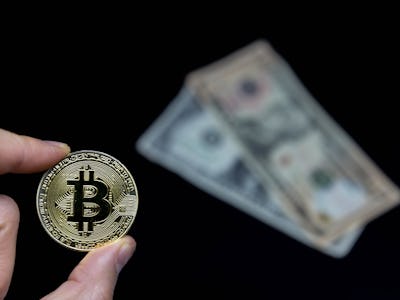 Flickr / wuestenigel
Bitcoin prices continued their summer rally on Tuesday, topping a price of $8,000 per coin for the first time since last May. As of early afternoon, bitcoin was trading at about $8,100 per coin, according to CoinMarketCap, roughly a six percent gain over the last 24 hours. That's naturally got enthusiasts wondering whether the high flying days of bitcoin fomo are back.
At least for now, we're still a long way from where we were at the end of last year, when bitcoin prices climbed so quickly that the term "buy bitcoin with a credit card" began trending on Google, according to a CNBC report from the time. Despite the warning sign that people were buying irrationally — putting investments on the credit card pushes well past risky into reckless — bitcoin prices continued to climb
As can be the case with cryptocurrencies and tokens, what's been good for bitcoin in recent months has been good for the market as a whole, with prices rising for all of the seven largest cryptocurrencies in terms of market capitalization.
What's Driving the Bitcoin Price Jump?
A few developments this summer have the bitcoin bulls feeling confident. Somewhat ironically, a lot of them have to do with bitcoin and crypto's increasing acceptance on the part of the financial establishment it hopes to one day displace.
Take the example of Blackrock, the world's largest asset manager, which recently announced it had formed a working group to look into blockchain and crypto-enabled investments. CEO Larry Fink told Reuters he still sees limited demand from investors, but the news of Blackrock's working group still helped send bitcoin prices up more than 4 percent in the report's aftermath.
But the more interesting development has to do with the Securities and Exchange Commission, Wall Street's top regulator which has been dancing around the issue of how to regulate cryptocurrencies and tokens since the mania last year. In January, the agency seemed to shut the door on approving the creation of exchange traded funds made up of different cryptocurrencies and other alternative investments.
Cryptocurrency ETFs would go a long way toward making the assets more accessible to everyday investors because they'd theoretically let you invest in the whole ecosystem at a reasonable price point (similar to how investors can now buy shares and fractional shares in all 500 stocks in the S&P 500 for about $250 using one of Vanguard's ETFs.)
Giving investors access to diversification would be an important breakthrough on the path to mainstream acceptance, because most people don't have tons of extra money to throw around on "investments" that might end up worthless in the long run.
That said, though five of these ETFs are currently awaiting SEC approval, the decision about their approval was just just postponed to September, according to CoinDesk.