New James Bond Movie 'Spectre' Trailer: Martin. Aston Martin. 
Christoph Waltz and Dave Bautista will rain misery on 007.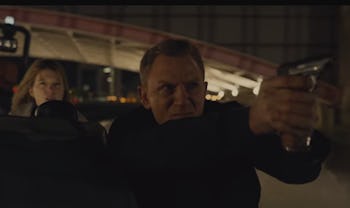 YouTube
The new Spectre trailer has me recalling my titillation at the previous Bond incarnation. As soon as the credits rolled on Skyfall, I headed for the nearest Petland and attempted, unsuccessfully, to buy a scorpion I could play drinking games with, so I'm down for Spectre. I'm not seeing anything in the new trailer about what Bond will be drinking against next, or how many legs it'll have, but his new Aston Martin is bloody good consumer porn.
This film has had a slow rollout since the movie got its name and Bond aficionados started inventing conspiracies with the dogmatic geekdom of X-Files fans. Here's more fuel for the furnace. Christoph Waltz' character finally steps into the light, hinting at a connective tissue between the Craig's run when he calls himself the "architect" of all Bond's pain. Also getting a proper introduction is Dave Bautista's Mr. Hinx, with a few shots of the burly henchmen breaking heads Oddjob-style. It's conventional wisdom the villains make the Bond. These two are promising. I'm optimistic.
In Bond's corner we have a returning M, Moneypenny, and Ben Wishaw's Q, who steals the trailer for gearheads when he unveils that aforementioned Aston Martin. The luxury car was designed and built specifically for this film and begs a Top Gear reunion. I just really want that car you guys.