Inspector Claims He Pointed to Duck Boat Design Flaws Prior to Crash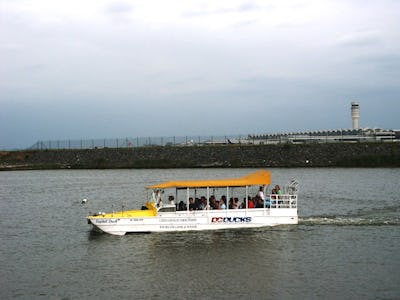 Flickr / robposse
A local boat inspector is saying he raised the alarm bells the duck boat implicated in an accident that killed 17 people in an accident last week in Branson, Missouri. The main flaw, he says, was the boat canopy found on many duck boats, which experts say make it hard for passengers to escape in the event of a capsize.
"The biggest problem with a duck when it sinks is that canopy," Steve Paul, who owns an inspection business called Test Drive Technologies in the St. Louis Area, told the Associated Press. "That canopy becomes what I'll call a people catcher, and people can't get out from under that canopy."
Paul's alleged report also raised concerns about the duck boats' engines and whether they could pump water fast enough to clear the engines' hulls in the event of bad weather. The report, he says, was written in August 2017 nearly a year before the accident took place. The boat was recovered Monday morning from Table Rock Lake, according to Springfield News-Leader photojournalist Nathan Papes, who is tweeting from the scene.
Regulators have raised questions about the safety of so-called duck boats and their canopy lid since a similar accident in Arkansas killed 13 people in 1999, per the AP's report. In the last 20 years alone, more than 30 people have been killed in duck boat accidents.
Some officials have already called to ban duck boats in response to the tragedy. Former National Transportation Safety Board chairman Jim Hall told USA Today that a ban was likely the "responsible thing to do." At the moment, Hall explained, the vehicles operate in a legal gray area — not quite boats and not quite buses — that make them hard to regulate. The weird shape also makes the duck boats susceptible to blind spots.
Some municipalities have taken steps to make the duck boats safer. In Boston, for example, duck boat drivers are banned from serving as tour guides while they are in control of the vehicles, and sensors and cameras were installed after a 2016 accident involving a collision with a scooter passenger on land, according to the Boston Herald. In light of the Missouri accident, Massachusetts Gov. Charlie Baker has also proposed a new safety measure requiring life jackets.
It goes without saying that shuttling tourists was not what duck boats were originally designed for, and they are not meant to be on the water for prolonged periods. The vehicles were originally invented to shuttle supplies between land and sea during World War II, and sometimes undergo ad hoc upgrades to make them more seaworthy.