New York City Filed a Voluntary Report to the UN on Its 2030 Sustainability Goals
"Every major city that's been here for more than a hundred years deals with these sorts of challenges."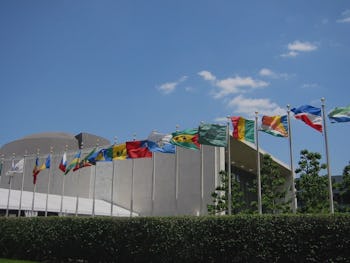 WorldIslandInfo.com / Flickr
New York City has more people than Denmark, New Zealand, or Mongolia — but still, it was pretty surprising seeing them submit a report about their sustainability plans directly to the United Nations, a process typically undertaken by countries as part of a 2015 agreement to meet certain sustainability goals.
After a month-and-a-half of hype, their report, "Global Vision | Urban Action: New York City's Implementation of the 2030 Agenda for Sustainable Development" (PDF), came into the UN during the international body's High-level Political Forum on Sustainable Development — which wrapped up earlier this week.
"We've been doing our progress reports every April, and then this year we did the direct accounting and the [UN] 'voluntary local review' to really show how cities are stepping up," Dan Zarrilli, and engineer and the senior director for climate policy and programs at NYC Mayor Bill de Blasio's office, tells Inverse. "And how New York City is a leader — particularly with the void of leadership at the federal level." (This appears to be a subtly sick presidential burn.)
A contentious (very New York) style is one of the more unique features of the city's long-term sustainability plan. As part of their efforts to gain, in Zarilli's words, "an element of climate accountability" they are suing five of the world's major oil companies for their contributions to greenhouse gas emissions and their active suppression of scientific data confirming the dire environmental consequences.
The city is also divesting from the oil and gas industry across all of its public-sector pension plans: pledging to pull approximately $5 billion in securities, over the next five years, from the roughly 200 or so oil companies into which the city of New York's $189 billion pension program invests.
In terms of their scope and agenda-setting pugnacity, the environmental activist and former a Guggenheim Fellow Bill McKibben called these moves "the biggest climate news of the year" in a recent Guardian op-ed. This commitment coming out of Mayor de Blasio's office is among some of the largest public pension divestments from the fossil fuel industry in history.
"Divestment in particular both sends the signal that we're not gonna participate and profit from this industry that's destroying the planet," Zarrilli said in a phone interview. "There's also a financial reality to it. As the fossil stocks and the oil stocks in particular continue to separate from the major market indices, this is a way of actually protecting our pensioners from the risks that are coming."
New York's voluntary review focused on the city's progress toward the five Sustainable Development Goals that the UN had prioritized for discussion at this year's High-level forum: clean water and sanitation; affordable and clean energy; sustainable cities and communities; responsible consumption and production; and protecting land. (Per Zarrilli, "It's certainly more than just climate.")
On the clean energy front, the city has partnered with local groups, like the Harlem-based WEACT for Environmental Justice, to increase solar energy use. The New York City Housing Authority (NYCHA) also plans to introduce more solar energy into public housing. The mayor's office says that solar use has expanded to six-times what it was back in 2014 — when the city pledged to reduce its carbon footprint by 80 percent before 2050. Last year, de Blasio signed an order committing New York to the Paris accord goal of keeping global warming below 1.5 degrees Celsius.
The city is also doing a lot of work to simply just to protect itself from climate change, a project that includes massive overhauls to the sewer system in an effort to cope with increased hurricane frequency and the expected sea level rise.
"We are investing over $1.5 billion in southeast Queens in neighborhoods that were never sewered at all," Zarrilli says. "[We're] putting in key infrastructure that can help deal with ongoing, chronic flooding risks — and helping improve water quality in Jamaica Bay and the other water bodies around New York City. It's a major investment that's been long needed."
"Every major city that's been here for more than a hundred years deals with these sorts of challenges," Zarrilli says. "You just fight your way through it."