The True Story Behind the Uncharted Fan Film 
Director Allan Ungar has always been a fan of Nathan Drake.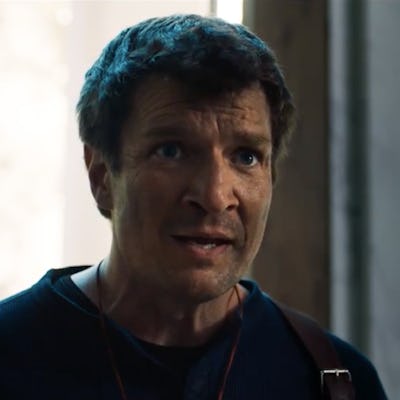 YouTube.com/Allan Ungar
Ten years ago, Allan Ungar was in his second year of film school at York University when he found himself playing Uncharted: Drake's Fortune, the blockbuster action game from Santa Monica studio Naughty Dog on the PlayStation 3. Styled in the tradition of Indiana Jones, the game spawned a popular franchise in which charismatic everyman adventurer Nathan Drake travels the world to unearth history's hidden treasures.
"I remember feeling, this is gonna change gaming," Ungar tells Inverse. "It felt like the apex in next-gen storytelling."
Now, a decade and two movies later (his 2015 film Gridlocked is streaming on Netflix), Ungar is the director of Uncharted, an unofficial 15-minute fan film that sprung out of nowhere to hit YouTube earlier this week. Made out of pure fanboy love without the involvement of Uncharted series developer Naughty Dog or publisher Sony, the film sports a legit cast, including Stephen Lang (Avatar) and geek icon Nathan Fillion (Firefly), arguably the most popular choice by fans to play Nathan Drake.
Filmed over a five-day period in Los Angeles, the short was achieved with a combination of luck, passion, timing, and curiosity. But the thing that brought it all together was the star actor.
"When I played [the games] I remember, thinking, 'There's one guy,'" Ungar says, referring to Fillion. When he saw chatter on gaming forums, he realized he wasn't alone. "Turns out everybody felt the same way."
But when the popularity of the games inevitably led to Sony optioning the film rights years ago, development was a series of starts and stops that made regular headlines on geeky news sites. And worse, Nathan Fillion was never mentioned. Instead, it was Mark Wahlberg set to play Nathan Drake. Then, Chris Pratt. Now it's Tom Holland, who will play a young Nathan Drake in an origin movie from director Shawn Levy.
During a period where "it felt like nothing was happening," Ungar stumbled upon the idea of making a short based on the series with Fillion as Nathan Drake, but it seemed impossible that the seasoned actor would stoop to a domain reserved for faded genre stars and amateur artists.
Except, that wasn't totally true. Fan films have gone legit in the age of YouTube. In 2015, Taylor Swift director Joseph Kahn released his dark, "bootleg" Power Rangers film, which shook the internet and prompted Ungar to rethink his options.
"When that came out, I was like, 'Oh my god. I'm onto something.'"
A mutual friend connected Fillion to Ungar, who pitched the actor over vegan Thai dinner. The director learned that Fillion was "very aware" of fans wanting him to play Nathan Drake, but there was another reason he considered the role.
"His dream role as a kid was Indiana Jones," Ungar says. "This has been sitting with him for a very long time."
When the film went online on Monday, Fillion thanked Ungar on Twitter for "letting us all scratch this itch."
What Video Game Movies Usually Get Wrong
Historically, movies based on video games tend to fall in the spectrum of bad to aggressively average. According to Ungar, the reason for this is simple: "Heart is missing."
Ungar says this leads to a "disconnect" that results in a below average product, citing Tomb Raider as prime example.
"It didn't really hit the mark," he says. "I think there just needs to be more discussions. What do fans want? What does the studio want? You can't make it a formula."
The way Ungar made his film, free from studio control, it's not hard to tell he's a true fan. Set between Uncharted 2 and Uncharted 3, the short movie tells an original story but with stunning attention to detail while also paying serious homage to the games. In a climactic shootout, the film even takes on an uncanny resemblance to the video game, right down to how Nathan unholsters his gun.
"Originally that sequence was far grander," Ungar says. In the original script, Nathan Drake would have jumped out the window and landed on a sloped roof, sliding down and avoiding hazards like in the game. He then hangs off the shingles before falling to the ground.
"It came together really fast," he continues. "Nathan was unsure at first. He said, 'If you think this is gonna get people to geek out, then let's do it.' We spent most of the afternoon on it. The gun jammed the first six times."
Getting fans to geek out was a priority, if only because there's still doubt that Fillion could play Nathan Drake. Even from his most vocal supporters, some think the 47-year-old actor is too old to play the video game icon.
"Gimme a break," Ungar says. "Nathan's not too old. He's exactly the age Drake is in the fourth game. Dude got in shape for this. Between when we met and we shot, there was a massive difference."
Even when Sony releases a real Uncharted movie, fans will still have Ungar's version.
"At the end of the day, I got into this business to tell stories," he says. "I said to myself in this crappy little dorm, it would be a dream to do anything Uncharted. This is the most gratification I've felt, even after having done films with budgets and stars and Netflix. This is personal."