There are 140 Million Reasons Nike Is Changing Its Store Design
As competition heats up, Nike does a sneaker shop rethink.
by Eitan Levine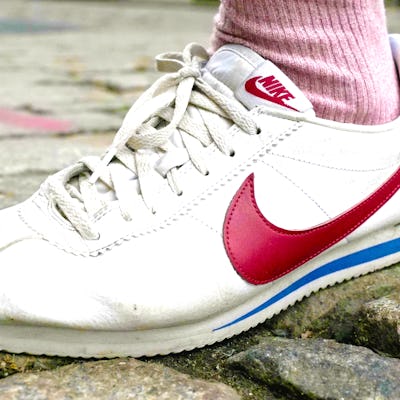 Photo illustration by Weston Green
While most brands' online stores feel like a digital extension of the physical location, Nike wants to take the inverse approach by making a new type of store feel like an IRL app. With data scraped from the athletic giant's massive trove of user data, Nike intends to use hyperlocal trends to decide what to put on the shelves.
For instance, take the humble Cortez: The retro running shoe's basic stylings may be outshone by $900 Balenciagas, but right now, it's experiencing a resurgence in LA: One out of every 50 Nike purchases by customers in the Melrose of Los Angeles is for a pair of Cortez sneakers, according Nike's review of purchases tracked by its app users.
This is the premise behind Nike Live, a new concept the athletic giant is testing with Nike By Melrose, a 4,557 square-foot location in Los Angeles that execs hope will become a prototype for how it interacts with local customers.
"We have 140 million members, so we have a lot of data at our fingertips," Nike executive Cathy Sparks tells Inverse, referencing the total number of users of four Nike apps — Nike Runners Club, Nike Training Club, SNKRS, and its main app — that will inform stock selection for Nike Live.
"What our consumers give to us is what we've used to choose [the location for Nike by Melrose], choose the products and services to put into it, and then will use to be reactive to what we learn," she says.
"We have 140 million members, so we have a lot of data at our fingertips."
Company executives say no two Nike Live stores — there's one slated to open in Tokyo next spring — will look the same. From the art on the wall to the products on the shelves, it'll be determined by local data.
"The original idea for this concept came while working on a new global flagship strategy," Sparks said at the opening of Nike by Melrose last week," Sparks said at the opening of Nike by Melrose last week. ""We've got two stores opening in the fall, New York City and Shanghai, that are large — 30,000 square feet, 60,000 square feet. Within that, one of the problems we were trying to solve was how to serve the local consumer that wants to come see us frequently.
"We know they'll come see us twice a month, but they don't want to travel six floors of retail theater."
Nike has a big challenge with a hyper-responsive store like this one, though: Logistics. Its goal is to swap out 15 percent of the apparel and 25 percent of the swoosh-covered sneakers will be swapped out for newer products that match buying trends in the area.
Whether it can operationally meet customer wishes by restocking or stocking new product every two weeks is a question it will have to answer with this new experimental store type. For context, restocking every two weeks is something close to unheard of in retail, which typically see major restocks quarterly.
Leveraging its massive bank of user data might be a magic bullet that gets Nike to outpace competitors in the US. Partially due to tastes leaning toward toward casual wear over athletic wear, Adidas saw a 20 percent growth in North American sales over the past nine quarters, while Nike saw a 6 percent drop over three months ending in February. The most recent financial quarter saw Nike report that its broader direct-to-consumer strategy, spurred by the launch of Consumer Direct Offense a year ago, is working. When reporting on June 28 its fourth quarter earnings, Nike announced revenue increased by 13 percent to $9.8 billion. The reason? "Strong double-digit revenue growth in international markets and Nike Direct globally." The Nike Live store concept, and its consumer-driven focus, seems to align with that strategy.
Between its various mobile platforms — including its main app, which currently claims the title of most-used "mono-brand app" in North America, according to Nike's internal data — the company has an unprecedented view of how its customers not only shop for Nike gear, but also physically live in their products.
The plan is to combine this data with a machine learning algorithm and local expertise to predict buying patterns in any specific location. This combination of materials will decide what each Nike Live location looks like in any given week. A constantly changing store will give locals a reason to return often, Nike hopes.
The best current example of how this responsive stores are being implemented is with the Cortez, one of the company's first models. The iconic running shoe was released during the 1972 Olympics and has experienced sustained interest since.
If the retro Cortez starts going out of style, Nike execs say the company can have it off shelves and replaced with something more fitting of the Melrose market within two weeks.
Even the in-person buying experience has been re-done to be more app-facing, based on what's customers will see when they walk into the store. After entering, they'll receive a push notification on their Nike app that logs them into that specific location's hub, so customers can interact with the store as they shop.
"We've done more comprehensive research than I've ever seen before on trying to understand the consumer journey in a store and the moments of truth," says Nike Chief Digital Officer, Adam Sussman. "Our whole focus was to use digital and mobile to remove the friction points and then enhance the experience and services."
Customers can scan the QR code on any product, press a button in the app, and a rep will automatically bring it over in the size based off information from the customer's Nike app account.
In that same vein, Nike is introducing the ability to shop for entire outfits on mannequins with one click of a button. If they scan the QR code on any in-store display, they can have every element of the outfit waiting in the fitting room, Nike executives say.
Even if some fashions — like the those of the early '70s Nike Cortez — are rooted in the past, Nike hopes its innovative store concept will keep it moving into the future in an increasingly crowded sneaker market.