Who Is That Good Boy on Amazon Prime Day's 'Something Went Wrong' Page?
For once, this error message is acceptable.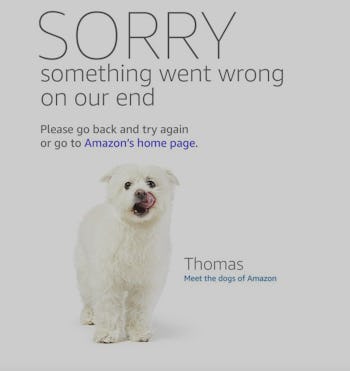 Eager Amazon Prime Day shoppers may have been angered by the website promptly crashing as the sale began, but there was one upside to the error message that flashed across the screen: the dogs that championed it.
Yes, there was a sad dog. A happy dog. A cute little white dog. A tongue out, ear flapping, undeniably grinning dog. A pompous dog. A little dog. A big dog! So many dogs. The promised land of deals and savings aplenty may not have appeared for Amazon Prime members that now pay $119 a year for this golden opportunity, but they at least got to look at some cute dog pictures.
The Seattle-based Amazon offices have long been equal opportunity employers for both canines and humans. Over 6,000 dogs are registered as Amazon bring-your-dog-to-work-every-day participants, and the pups enjoy their own doggie treat stations, a playground, and, of course, their photoshoots. Lots of employers allow workers to bring their dogs into the office on occasion, but Amazon really pushes their dog initiative with a variety of fun perks.
The 404 'page not found' error that greets any internet user has incorporated Amazon dogs on the e-commerce site since 2006, and the dogs are actually all owned by Amazon employees.
The very first Amazon dog, according to the DayOne Amazon blog, was Rufus, a Corgi, and one of the office buildings in Seattle is named after him to this day. Little Rufus helped create the first-ever malfunctioning Amazon error pages!
Today, the three most popular dog breeds that grace Amazon's offices are Golden Retrievers, Labrador Retrievers, and Labradoodles. The top three dog names are Lucy, Bella, and Charlie.
Amazon even produced an adorable little video celebrating its furry inhabitants — maybe it was to distract us from the world's richest man not being able to keep his own website running on the "Black Friday of July."
When reached for comment, an Amazon made no mention of dogs, instead downplaying the incident: "Some customers are having difficulty shopping, and we're working to resolve this issue quickly. Many are shopping successfully – in the first hour of Prime Day in the U.S., customers have ordered more items compared to the first hour last year. There are hundreds of thousands of deals to come and more than 34 hours to shop Prime Day."
Honestly, keep the deals. We're okay with the dogs.
Update: Inverse has updated this story with a statement from Amazon.