We Already Know the Best Low-Key Deal on Amazon Prime Day
Prime Day begins on the 16th, but we already know the one deal you should brace yourself for.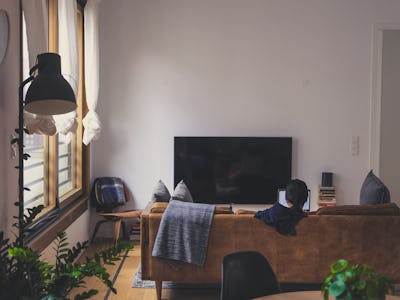 Unsplash / Grant
Prime Day is here! With its hundreds of dollars off electronics, limited-time deals on everything from metal straws (the next big thing) to clock radios or whatever. It's chaos, but beautiful chaos, and if you haven't ever signed up for Amazon Prime yet, you should do that now (for a free trial, no less!) to prepare for all the sick deals.
But for every $1 iPhone charging cable, for every 20-minute deal on weird psychedelic bedsheets, Amazon's already copped to the coolest and most important deal to snap up on Prime Day of all: Not having to do a difficult thing.
Simply put, when you order Amazon's wall-mounted TV installation service today, you're gonna get up to $25 off right off the bat. That's a lot for a thing that usually comes in under $100 to begin with, and, trust me on this, it transforms your living area from "post-college identity crisis" to "Someone who might—just might—have their life together."
We all want to be handy around the house, but as first steps go, installing a TV into your wall, finding studs and perfectly aligning everything, it's a daunting prospect. Maybe while you start with putting up some nice shelves, you can leave the tougher stuff to the professional, and maybe pick up some tips along the way.