How the Art Market Lets Leonardo DiCaprio Bet on Himself
A hot star's art collection can go for more than double its estimated value.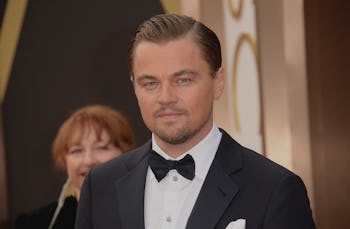 Getty
The wildly speculative global art market owes a lot of its good press to the celebrities that haunt Art Basel and the fairs in London and New York. But it now appears possible that Leonardo DiCaprio's passion for Jean-Michael Basquiat might well be a liability for collectors and auction houses alike. Hollywood may be poking at the painting bubble with a pin.
With the U.S. art season starting, Wealth-X has released its annual list of the top celebrity art collectors. And that list is getting outrageous. David Geffen easily topped the list with $2.3 billion worth, leaving George Lucas and Arnon Milchan tied for second with a measly $600 million worth. Here's the rest of the top ten:
Stephen Spielberg - $240 million
Jack Nicholson - $100 million
Steve Tisch - $50 million
Michael Ovitz - $12 million
Leonardo DiCaprio - $10 million
Looking at the sales numbers you can see why they're expanding their portfolios. 2014 saw a record $68 billion in global sales, double 2009's numbers, The Economist reports. But scales aren't just scales when someone is pushing on them.
The celebrity salesman is a study in inflating prices. As Bloomberg noted in 2006, comedian Steve Martin sold Edward Hopper's "Night Window," which was valued at $15 million, for $26.9 million. How much of that had to do with Hopper and how much had to do with Martin?
When artist and celebrities interact, the results are unpredictable. For every beloved comedian like Martin, there is someone on the front of US Weekly. A number of Max Parrish paintings had the misfortune of ending up in Mel Gibson's hand. Pre-antisemitic meltdown they could've brought in an estimated $15.9 million but post they were lucky to catch $10.9 million. Right now, the smart money would be to buy Basquiats in the hope that Leo's next flick, The Revenant, crushes it and he takes a canvas to auction to inflate prices. But that's a dangerous game. If he gets caught being awful or not dating an adequate number of supermodels, his art could lose value.
The key is no longer to know what you're buying, but knowing whether the artist is playing a starring or supporting role.